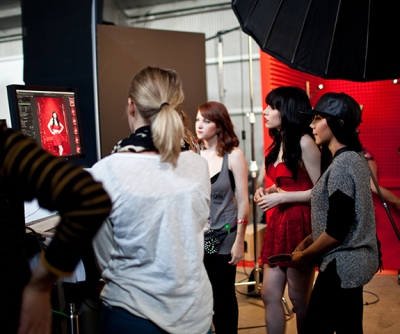 Singer Carly Rae Jepsen has been named ambassador of Red Ruby Groovy products from Bert's Bees body care line, güd.
Carly Rae Jepsen is the brand's first spokeswoman and will front the ads of the products from the line. The print ad will appear in the May issues of leading fashion, beauty and lifestyle magazines like Glamour, Allure, and Cosmopolitan.
The 27-year-old glammed-up for the new print ad that is shot in a dream shower turned recording booth. The singer is seen belting out her favorite tunes while she uses the energizing hair and body care products from güd's new Red Ruby Groovy line. "I spent the day getting dolled-up in a little bit of old school fashion and playing with some amazing products," Jepsen said about her experience.
"To be able to use a brand that you know has natural ingredients but also smells scrumptious is the best of both worlds. I love these products because I know I can count on them, they're good for me, and make me feel beautiful."
Talking more about the products she said that she loves the line and that shooting for the ads was fun and at times she even forgot that there was a camera in front of her. "I've always been attracted to things that smell feminine," "I don't mind if my boyfriend wants to get a little closer than usual, and I like things that are energizing. This is a combination of both. I feel very womanly, and it makes me sort of ready to take on more."
The Red Ruby Groovy line includes body wash, shampoo, conditioner and a body lotion.