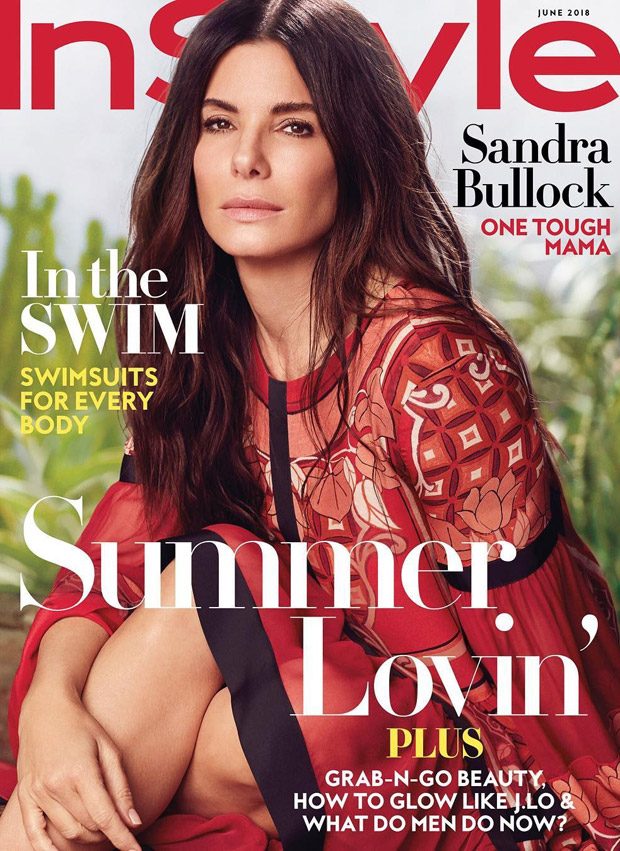 Actress Sandra Bullock takes the cover story of American InStyle Magazine's June 2018 edition lensed by fashion photographer Carter Smith. In charge of styling was Paul Cavaco, who for the session selected looks from top brands such as Alberta Ferretti, Isabel Marant, Etro, Altuzarra, Louis Vuitton, and Sacai. Beauty is work of hair stylist David Babaii for Lowe & Co, makeup artist Sabrina Bedrani at The Wall Group, and manicurist Betina Goldstein for Lowe & Co. production by Avenue B.
"It's easy to give money to people who are incredibly brave and outspoken. But Time's Up is not just about the actors—it's about the single mom who's been abused, bullied, and sexually harassed and is just trying to make every day safe. I also love All Raise, which has partnered with Time's Up to help close the gap on funding for women and minorities in technology. It's our duty to do whatever we can to help. I can safely say there is not one person I know who hasn't experienced some form of [harassment] or doesn't know someone [it's happened to].
It happened to me when I was 16. And you're paralyzed to a degree, thinking, "Will anyone believe me?" And at that time? No. Up until recently it was the victim who was shamed, not the perpetrator. But just like with this [points to the TV], we can do peaceful protests and utilize the media. We're raising our children to be fearless. At least I hope I'm raising my kids that way." – Bullock for InStyle Magazine on donating $500,000 to Time's Up.