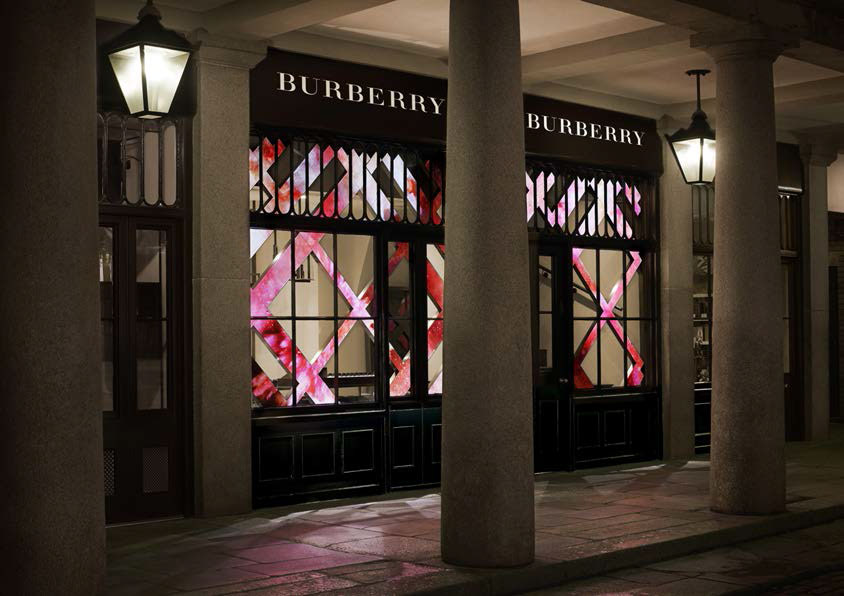 Burberry today announces the opening of The Burberry Beauty Box in London's Covent Garden. This new retail concept brings Burberry fashion and beauty together in an innovative format that allows customers to explore the connections between make-up, fragrance and accessories through personalised physical and digital experiences. The launch follows the establishment of beauty as the brand's fifth product division in April 2013 and the launch of its most significant men's fragrance to date, Brit Rhythm, in September. It builds on recent innovations that highlight the unique relationship between the brand's fashion and beauty worlds, including:
the launch of seasonal beauty looks to complement the brand's runway collections
the introduction of beauty to Runway Made to Order, allowing customers to purchase beauty products from runway looks immediately online after the Burberry womenswear show
 an exclusive fashion capsule timed to coincide with the launch of Brit Rhythm
THE COLLECTIONS
The Burberry Beauty Box features the full Burberry Beauty collection of make up and fragrance, as well as limited edition beauty products. The space also houses Burberry accessories including sunglasses, scarves and an exclusive selection of bags, available only in the store. Customers can explore signature Burberry looks, created using a combination of make-up, fragrance and accessories that connect Burberry fashion collections and Burberry Beauty. A new look will be revealed each month, available to experience in store. All products are gift-wrapped in exclusive Burberry Beauty Box gift packaging.
THE SPACE
The space is designed to blur the physical and digital, encouraging customers to interact with the world of Burberry Beauty. Continuing the brand's integration of digitaltechnology into its retail environments, the space  features:
a custom built digital screen in the shape of the iconic Burberry check showcasing bespoke content on the exteriorfaçade.
a 16ft 'digital chandelier' showcasing monthly beauty content over multiple screens, bringing new looks and products to life.
the brand's first till-free retail environment. Payments are taken using a mobile point of sale system on iPads and iPhones, which also offers the option of digital receipts.
EXPERIENCES
The Beauty Box Bar is the gifting hub of the store, showcasing make-up, accessories and fragrance and offering a unique, tailored gifting service. Assisted by a dedicated Beauty Stylist, customers can put together signature looks or mix and match products to create a bespoke look – as gifts, or for themselves.
The Digital Runway Nail Bar offers a playful virtual experience for trying on the latest Burberry runway nail shades. By placing a Burberry Nail Polish onto an RFID-enabled platform, customers can choose their skintone and virtually experience the selected nail shade.
Customers are invited to discover Burberry signature looks and monthly colour trends.
Brit – an irreverent look inspired by music
Body – a natural, nude look
Tender – a fresh, dewy look
Icon – a timeless look inspired by the Burberry icons
A complimentary one-to-one consultation with a Burberry Beauty Stylist to discover your ideal Burberry fragrance. Runway Nail Service Shape and colour mini manicure using Burberry nail shades.
A complimentary bespoke consultation for skin, eyes and lips. The one-toone express service refreshes and enhances the skin, eyes and lips using product selected from the full Burberry make-up collection.
Combining professional make-up skills with fashion styling expertise, Beauty Stylists offer consultations that include make-up, fragrance and accessories in a dedicated space on the first floor, which benefits from natural light through the store's multiple skylights.
"The Burberry Beauty Box brings together our fashion and beauty worlds, merging physical and digital experiences that allow people to explore and combine
Burberry make-up, fragrance and accessories in new, playful and exciting ways." – Christopher Bailey, Burberry Chief Creative Officer