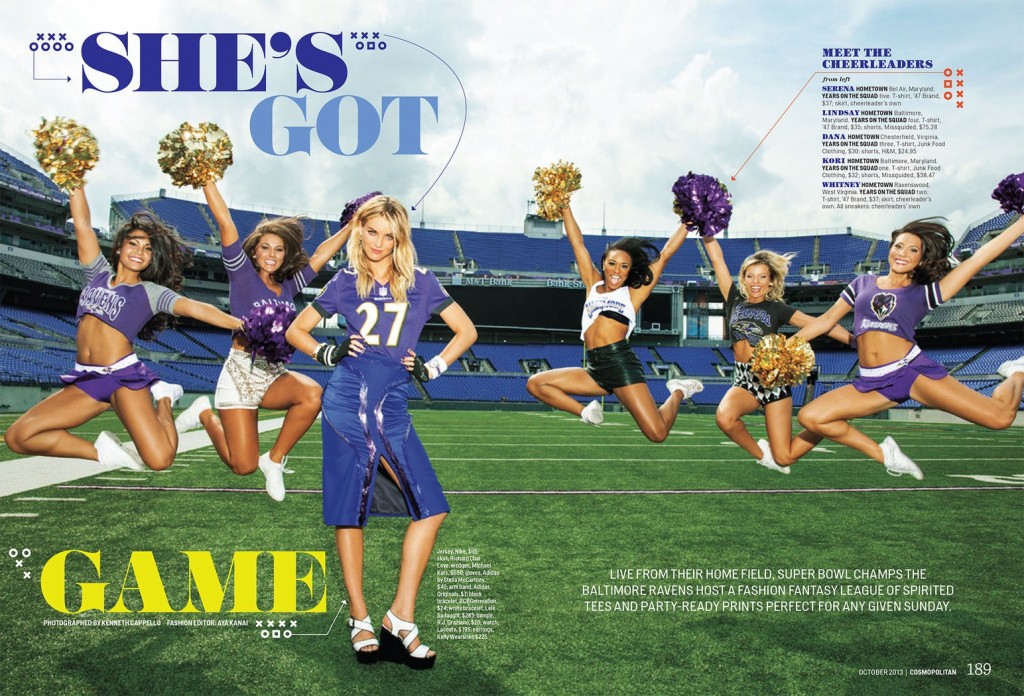 Miss Pop is now the go-to nail artist for female NFL fans – and its players too.
For Cosmopolitan's October issue, she traveled to Baltimore's M&T Bank Stadium, home of Super Bowl XLVII champs, the Ravens. "There's something about being on that field that's powerful and motivating," Miss Pop said, "especially running through the tunnel there's so much excitement; I felt like a warrior. I wanted to bring that power and excitement to the nails, along with the idea of a clash, to represent the tackling."
All of this steered the manicurist in a geometric direction. Eight of model Elyse Taylor's finger tips featured a "rising star" design – "it's how I view the team," Miss Pop explained – and the other two were footballs. Taylor wasn't the only one to receive a paint job on set. "I did the players' nails as well," Miss Pop noted, referring to safety Matt Elam and kicker Justin Tucker, who were photographed for the "She Got Game" editorial. "They have the most gorgeous hands I've ever seen! I know it's hard to believe, but they get manicures as part of taking care of themselves. I was concerned they wouldn't want them, and they were absolutely into it! It was nothing new for them."
She also conceived the nails for a pair of CoverGirl ads that ran alongside the Cosmo article: "CoverGirl is the official beauty sponsor of the NFL … and women who are into sports are still women. If I go to a game, I'm still putting on makeup." She added that a bottle of Outlast Stay Brilliant Nail Gloss costs less than $6, much less than the price of a jersey.
The advertisements list the colors needed to support the New England Patriots and the Chicago Bears. Miss Pop recommends purchasing a dotter and a nail art striper brush to achieve the looks.
Photographer: Kenneth Cappello
Fashion editor: Aya Kanai
Hair: Kayla MiChele for Atelier Management using Perfect Locks
Makeup: Tamah at The Wall Group
Model: Elyse Taylor at Marilyn Agency
Set design: Chelsea Maruskin
Production: Yael Knopf for First Shot Productions
Source: Bernstein & Andriulli