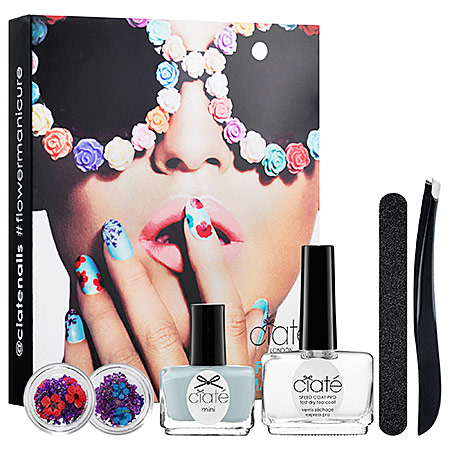 Ciate has launched the new Flower Manicure set for the Spring 2014 season.
Create an intricate pattern in an instant by scattering natural flowers onto a clear topcoat. This do-it-all flower manicure kit is the perfect way to get nails ready for spring. Paint, add delicate flower petals, seal, buff, and you have a fresh flower-art manicure in no time. Use the two types of enclosed flowers to mix, match, or create patterns. 
This set contains:
– 0.17 oz Mini Ciate Paint Pot in Ferris Wheel
– 0.46 oz Speed Coat Pro
– 2 x Pots of Flowers
– Tweezers
– Nail file Ciaté Flower Manicure limited edition
The nail kit  is exclusively available at Sephora for $25 / €22.