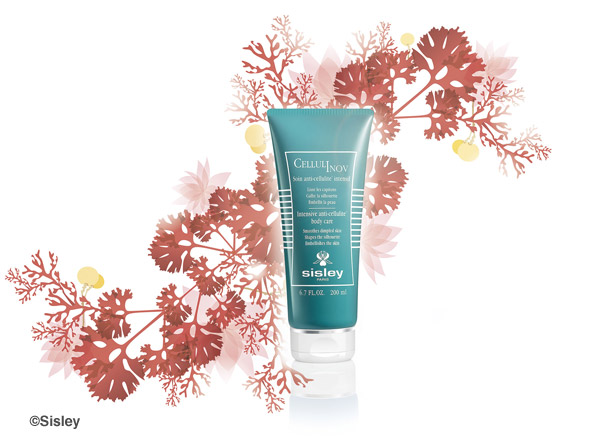 Sisley will launch their new anti-cellulite cream –  Cellulinov Intensive Anti-Cellulite Body Care.
Sisley-CellulinovIntensive Anti-Cellulite Body Care is an intensive anti-cellulite body care. By acting at the natural processes of the skin, it will help you fight cellulite and get a smoother firm skin. This is the number one challenge for many women and very often they are disappointed with the results. That's why Sisley decided to strike hard in the fight against Cellulite. Enough is enough. Sisley spent some time studying all the great advancements in terms of scientific research on the skin matter. After going deep in the knowledge of natural vegetal extracts, one pops-up, being the anti-cellulite champion: the Longan Seed Extract.
Dimocarpus-longan-fruits – Also called Dragon's eye, it is a Asian fruit, similar to Litchis. And the most amazing thing with this plant, is that everything is good on it. The fruits, the seeds, the leaves and the wood. All of them have strong properties. And only Sisley could bring you the best of it inside a product.
By understanding the cellulite phenomenon, Sisley used the Longan seed extract to block 2 things: first of all to put the adipocytes on a "diet" by reducing their nutrition and, second, preserving the extracellular matrix (ECM) in order to slow down the expansion of the adipocytes in terms of number and size.
The Longan seed extract inhibits PAI-1 protein which plays a major role in the nutrition and oxygenation of the adipose tissue. By limiting the formation of new blood vessels (angiogenesis), this new active ingredient puts fat cells on a "diet" and limits their growth.
In addition of the Longan seed extract, the product contains:
Indian Lotus extract, to slow down the adipocyte creation
Red Algae extract, to reduce fat stockage
Caffeine and Cedrol join forces to accelerate the elimination of Fat
Ginkgo Biloba extract to firm the skin
Highly concentrated in nourishing and moisturising active ingredients, the texture of Cellulinov is rich and creamy, sliding onto the skin and allowing a prolonged massage, which Sisley recommends twice a day, with firm upward strokes. The innovative texture allows you to fight efficiently against the orange peel effect and at the same time you can enjoy the sensorial pleasure of a great texture.