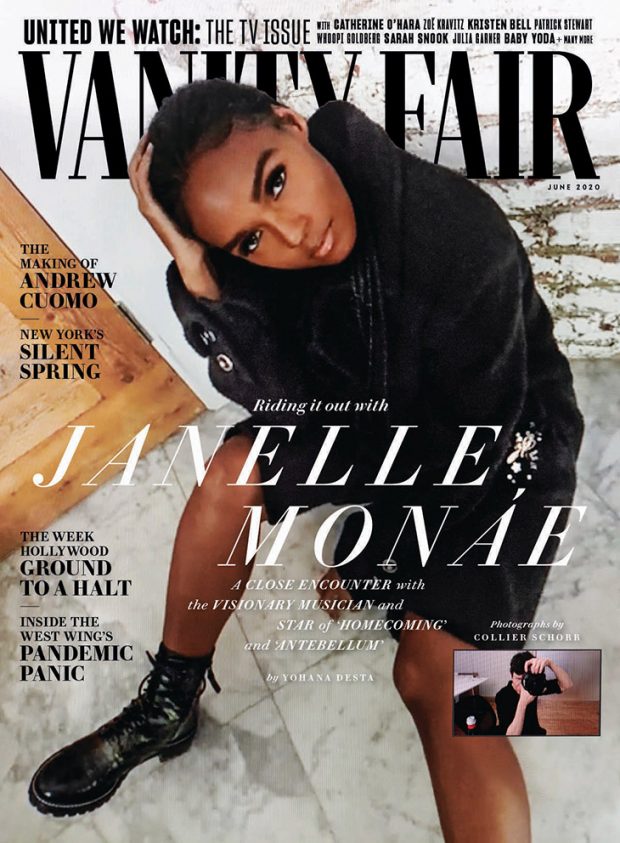 The multi-talented artist Janelle Monáe takes the cover of Vanity Fair Magazine's June 2020 edition captured by fashion photographer Collier Schorr. In charge of styling was Samira Nasr, with beauty from hair stylist Nikki Nelms, and makeup artist Jessica Smalls. For the cover Janelle is wearing coat by Chanel.
I knew that taking on this role was going to take a lot of deep diving emotionally, This role is the hardest role that I've done, because it directly connects the past, present, and the future. I went back and forth with, Should I do this? People are gonna think I'm crazy. It wasn't until I did some deep meditation—and I saw so many women that reminded me of Veronica, from Maxine Waters to AOC to all of the strong women in our government—that I said, Yes, I should do this. This scares me, and the conversations need to be had because our past will directly determine our future. – Monáe on her role in Antebellum
The eight-time Grammy nominee Janelle Monáe is starring in the second season of Amazon Prime's hit TV series Homecoming, aw well as in Antebellum movie directed by Gerard Bush and Christopher Renz.
Vanity Fair – www.vanityfair.com
Photographer Collier Schorr
Stylist Samira Nasr
Hair direction Nikki Nelms
Makeup direction Jessica Smalls
Star Janelle Monáe