For decades, the fashion industry shut its doors on plus-size women, as audiences around the world were bombarded with images of wafer thin models that fitted the cookie-cutter criteria that had become accepted by the mainstream.
However, times have changed, as audiences are taking back control and demanding women be portrayed in a more realistic and inclusive manner. And if there's one person you can count on to break the mould, it is none other than the marvellous, Tess Holliday.
Holliday, formerly known as Tess Munster, has been promoting inclusivity in the industry ever since she started modelling at the tender age of 15. And as she graced the cover of Nylon Magazine's Beauty Issue this year in a stellar yellow swimsuit, Holliday's fight for body positivity is far from over.
The Guardian notes that the movement is extremely personal for Holliday, who suffered a harsh entry into the industry when she was told she was too fat and too short during her first casting experience. Despite overcoming this obstacle and many others along the way, she admits she still struggles with her body image. "Obviously I probably have internalised fatphobia about myself and what the world has ingrained in us," she shares.
Read more after the jump:
Holliday is a refreshingly open book as she also freely discusses her sexuality and the backlash she's received throughout her career. Although she's adamant that nothing can stop her in her quest to reach her dreams, Holliday passionately asks the industry, "Why is it controversial to talk about the fact that fat people deserve to take up space and deserve to be sexy? … We are not showing up for these people, and we are not telling them that they matter."
Just last year, when Holliday was on the cover of the October issue of Cosmopolitan, television personality Piers Morgan scathingly criticised her size and for being on the front cover of the magazine by saying it was a "load of old baloney." These less than polite sentiments have been echoed across social media, further highlighting how far the movement towards body positivity still has to go.
The ever-resilient Holliday, however, responded with grace by saying, "At the end of the day, I'm not doing this for people like Piers. I'm doing this for women around the world that need to see someone that looks like me to feel less alone and to understand that the way they look is beautiful."
All in all, there is still a lot to be celebrated when it comes to inclusivity in fashion right now. From Aerie's unretouched campaign featuring Jameela Jamil, to plus-size supermodel Ashley Graham gracing Allure Magazine's July 2019 issue, the fashion industry has been making huge strides towards body positivity. Moreover, fashion brands are slowly but surely chipping away at fatphobia and helping women similar to Tess Holliday become more empowered with the clothes they wear.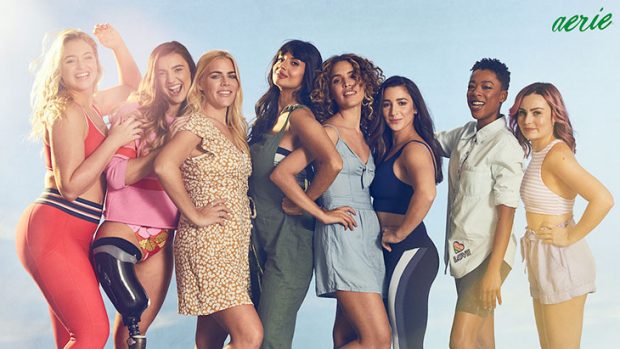 Case in point, online retailer ASOS published an unretouched photo for a backless dress by Missguided Plus that featured the model's beautiful back rolls. Meanwhile, Woman Within's range of shorts sized 12 and up highlights how there's a pair of shorts for every size and shape nowadays. These showcase how more and more women can rock whatever look they want to, balancing both style and comfort. Indeed, initiatives like this show how the industry in general is slowly making a turn for the better, though there are some exceptions.
For instance, Nike's plus-size mannequins were absurdly fat-shamed upon their debut in stores across the world. This just goes to show that change must also come from the consumers too, and further proves why the presence of courageous body positivity activists like Tess Holliday is vital and powerful for women across the globe at this moment in time.
Nylon Magazine – nylon.com
Editor in Chief: Gabrielle Korn
Fashion and Beauty Editor: Jenna Igneri
Art Direction: Dani Okon and Sarah Lutkenhaus
Photographer: Lindsey Byrnes
Stylist: Meaghan O'Connor
Stylist Assistant: Olivia Gabaree
Hair Stylist: Tony Medina
Makeup Artist: Ivan "Shablam" Nunez
Model: Tess Holliday