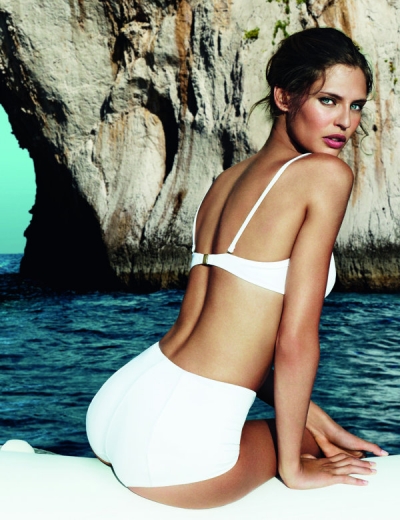 Model Bianca Balti is the new face of Dolce & Gabbana Light Blue fragrance taking over from blonde beauty Anna Jagodzinska, joining David Gandy who represents the men's fragrance.
"Bianca Balti has featured in many Dolce & Gabbana campaigns, but to see her with David brings a renewed, relaxed energy to Light Blue. Together, their eyes match the colour of the water, that beautiful endless blue that is the Mediterranean surrounding Capri," said Domenico Dolce & Stefano Gabbana. "Watching it is to dream of plunging into that refreshing sea and feel the sun on the skin, to feel totally free, relaxed and at peace."
The campaign is shot in Capri by photographer Mario Testino.
David and Bianca were posing in the signature white swimwear that has become synonymous with Light Blue fragrance campaigns. Domenico Dolce and Stefano Gabbana believe that:
"to see her with David brings a renewed, relaxed energy to Light Blue. Together, their eyes match the colour of the water, that beautiful endless blue that is the Mediterranean surrounding Capri. Watching it is to dream of plunging into that refreshing sea and feel the sun on the skin, to feel totally free, relaxed and at peace."