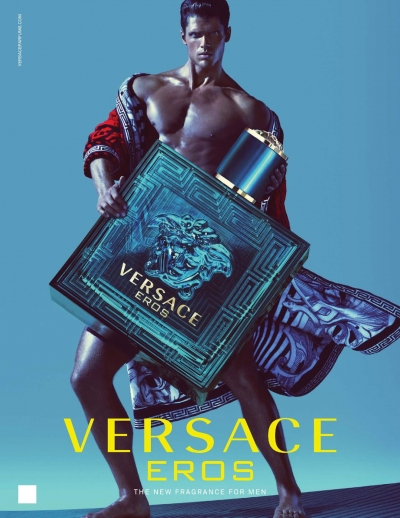 Versace launched a new fragrance for men this winter – Eros. Inspired by Greek mythology,the aim of this fragrance is to reveal and release unrestrained passion and to accentuate desire.
The fragrance was named after Greek god of love and son of goddess Aphrodite. Inspiration by ancient Greece has lasted since the time when Gianni Versace raised his fashion empire and took goddess Medusa as symbol of the brand to adorn numerous products of the house, among them also the new flacon of men's fragrance Eros.
"I designed my new fragrance Eros for a man who is both heroic and passionate, like a Greek god. Eros is a scent which depicts and emphasises power and sensuality,"
"This is a fragrance for a man who is his own master. He is a hero: a man who defends their ideas and goals." says Donatella Versace.
The new perfume Eros is the first in the past five years to be launched and aimed at men. Donatella Versace's desire was to fit the fragrance into the concept of the Versace brand and to depict style and significance of long-lasting design, quality and popularity.
"Eros is truly the DNA of the house of Versace ,We have a Greek motive making us think about ancient Greece, antiquities and mythology, while turquoise color represents the Mediterranean. That is Versace!"
Eros was created by Aurelien Guichard of Givaudan and it was announced as fresh, woody and slightly oriental. Eros combines fresh citrus, mint, apple with sensual notes like tonka beans, oak moss and amber to be a surefire hit with everyone in touch with their sexuality. Flacon of the new fragrance for men Eros is created of turquoise color glass with head of Medusa on the body of the bottle and on its top.
The fragrance is available as 50 and 100 ml Eau de Toilette, along with accompanying perfumed body care products.
Eros is fronted by hot US model Brian Schimansky.
The campaign is shot in London by high profile photo duo Mert & Marcus under the direction of Donatella Versace.