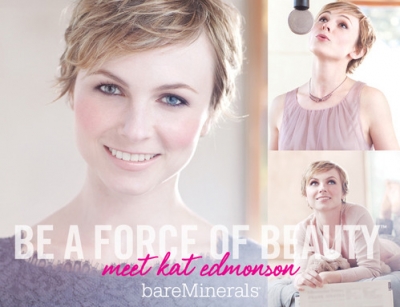 Launching in March, bareMinerals unveils the next generation of its "Be a Force of Beauty" platform with singer-songwriter Kat Edmonson as its newest face.
As a follow-up to the blind casting that kicked off the "Be a Force of Beauty" campaign in Fall 2011, bareMinerals has been on the hunt for new forces of beauty; women that inspire, energize and captivate. Through this evolved platform, bareMinerals seeks to share the individual stories of women that have inspired them, and in return, hopes to introduce these women to a larger audience in order to share their discovery and inspiration.
This idea first came to life last April while Leslie Blodgett, Executive Chairman of Bare Escentuals, was listening to a radio interview with Kat Edmonson on NPR during her daily commute. "I listen to the radio all the time, but this was different," says Blodgett. "She was different; her voice, her story…she immediately touched my soul." Following a social media courtship,
Blodgett and Edmonson arranged a meeting in New York a few weeks later. "From the moment I heard Kat on the radio, I knew we had to do something with this amazingly talented artist," comments Blodgett. "It felt like the blind casting again, I felt like I saw who she was without seeing her face."