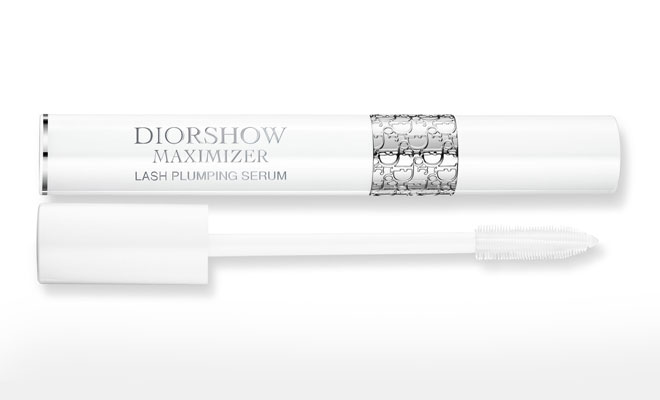 Dior as a make-up brand is widely famous for numerous cosmetic items, but one of the top products from their range is for sure the line of DIORSHOW mascaras. They have been on the market for some time, and had a massive back up form backstage make up fashion world. However here is one more product from that line which is maybe not as known to all of us out there.
DiorshowMaximizer- Lash Plumping Serum is the product that I could live without, but after its discovery I fear for my existence in the lack of the same.
It looks like regular Dior mascara but the packaging is white color as the serum itself. There are two ways we can use this amazing serum and two benefits that it can provide.
First one is using it as a primer and maximizer underneath our regular mascara. It coats and lengthens our lashes in a white serum paste. Looks a bit funny applied on its own but your real smile of joy is yet to come after applying mascara coat on top of it. Not only that it increases the length of your lashes but gives out crazy volume without clumping. Perfect extra touch for your sexy smokey eye, specially if you have difficulties of putting and wearing fake eye lashes.
Second one is using it as an over-night lash treatment serum . It contains an active ingredient LashMaximizerTM and hyaluronic acid that will help revitalize your lashes. They will become thicker, longer and stronger using this serum as your every night routine.
So two in one is always a great deal, specially if the results that are clamed are proven as well. Make lashes the star of your show with DIORSHOW MAXIMIZER.
Written by Beauty Scene Beauty Editor Jovana Prosenik @jovanapro
Have you used Diorshow Maximizer? Let us know your thoughts in the comments below.