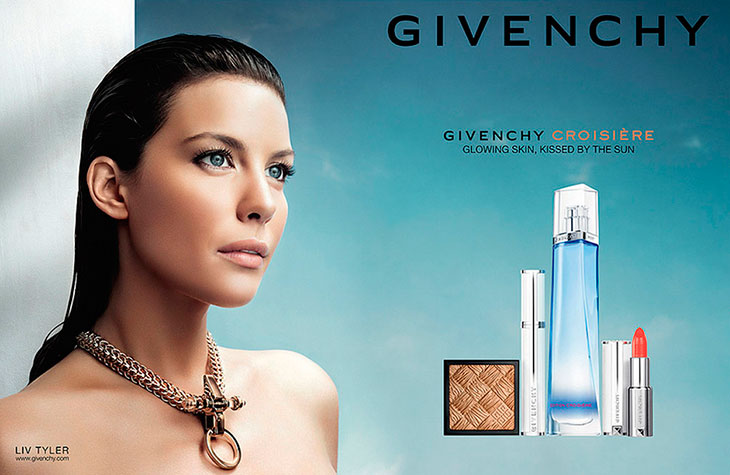 Givenchy
is launching it new Summer 2013 Croisiere Collection in May 1.
"Did you ever notice that the number of compliments that come your way when you return from a relaxing, sun-filled holiday? "You look great!" What if you could capture that post-holiday radiance and recreate it anytime? Now you can….
Inspired by the afterglow of a sunny getaway, Givenchy Croisière 2013 lets you recreate the warmth of summer, no matter the weather.
With caramelized, sun-kissed skin taking center stage, Givenchy's Artistic Director for Makeup and Colours, Nicolas Degennes has created a limited-edition array of gem-inspired hues that add a hint of sparkle and a sensual pop of color to eyes, cheeks lips and nails and for the first time ever, completes the collection with a new, fresh, summery twist."
Le Rouge Croisiere – Limited Edition 
Balm Lip Gloss – Limited Edition
Natural Croisiere
Pink Croisiere
Nail Polish 
Croisiere Mat Orange – coral
Croisiere Purple
Noir Couture Waterproof Mascara 
Purple Velvet
Black Velvet
Reflet Precieux Satiny Body Enhancer – Limited Edition 
We see it in on television, in magazines, on the red carpet…that coveted "I just got back from Bali" glow. It's no secret that achieving this look via the sun has its risks, so Givenchy has come up with your best option yet.
Reflet Précieux is a sublimely silky body veil that's infused with a bronzed-amber sheen. Once on the skin, it mimics the glow of the sun perfectly with heavenly shimmer that almost appears wet. The slim, go-everywhere bottle is perfect for tucking into your purse or beach bag because trust us, you won't ever want to leave home without it!
Poudre Croisiere Healthy Glow Bronzing Powder
Premiere Croisiere
Douce Croisiere
Ambre Croisiere
Extreme Croisiere
Very Irresistible Croisiere Perfume – Limited Edition
Actres Liv Tyler is the face of the campaign.