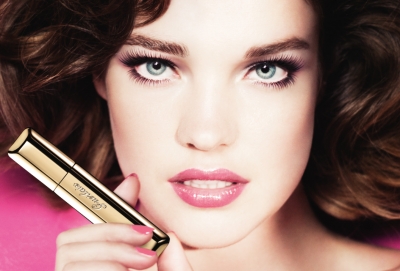 The GUERLAIN MAKE-UP COLLECTION SPRING 2013 is one of our favorite collections this season! For Spring 2013 Guerlain offers a brand new mascara, new limited edition of meteories, two eye shadow palettes, eye liner and six lip products.
With the beautiful colors you can now look forward to spring! Delicate berry and rosé, subtly glossy lips and our new favorite product – CILS D'ENFER MAXI LASH MASCARA! Brand new volumising mascara from Guerlain comes in a compact size which should make it easy to take it with you. The secret of this brush is in the three polymers. Accordin to Guerlain "The first one wraps the lashes in extremely adherent oils, coating and thickening the lashes. The second one, made with supple waxes, acts like a conditioner, softening the lashes so you can sculpt them into just the right shape and style. The last one forms a thin film, coating the lashes to trap the wax and set the amazing curve."
Finally a mascara that meets all our mascara dreams: easy to use, comfortable texture that can be easily applied several times in a row, until the desired result is achieved, and perfectly separated lashes, thanks to unique polymers that maintain and guarantee stunning eyelashes! The round brush distributes when applying just the right amount of product. The bristles are arranged crosswise, separating the lashes and optimally distribute the product without clumping! It comes in black and violet.
Guerlain Météorites Perles du Paradis: New Limited Edition of meteorites come in XXL size with a pink powder puff with a black bow on top. These meteoties come in a box adorned with an illustration of a boudoir. There are six shades: pink, to brighten dull areas, and silver, to reflect ambient light and ensure one-of-a-kind radiance (which replaced blue and green). There is also the Météorites Brush with white wood handle is and pastel pink bristles.
But the eyeshadow quad and lipstick colors are a must-have, not only for the spring! Purple is the new black, according to Guerlain and more exciting and daring than the same old dark colors. Eyshadows come in 2 palettes
501 Attrape-Coeur mauve, violet, white illuminate, prima donna purple.
502 Coup de Foudre, green, silvery patina, bronze-khaki, vibrant coral.
The lipsticks SHINE AUTOMATIQUE come in nude and beautiful plum tones. The unique folding mechanism is visually very appealing.