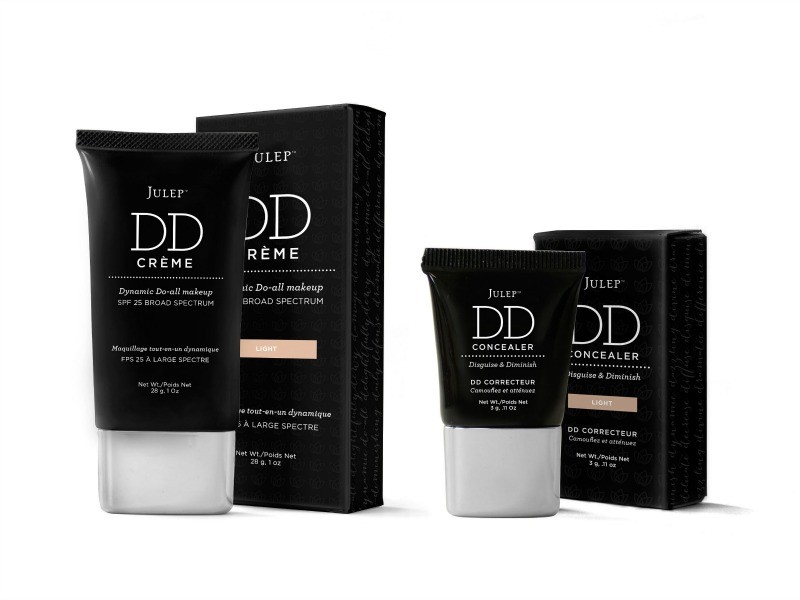 Julep will introduce the first ever DD Cream and DD Concealer in May 2013.  This "dynamic do-all" beauty duo is the marriage of high-quality skincare and luxurious makeup, offering serious results in easy, one-step products.
Containing more coverage than a BB cream and more benefits than a CC cream, Julep's DD Creme and DD Concealer are formulated to tackle signs of aging while diminishing fine lines, balancing uneven tone and protecting delicate areas of the face. Each product is ideal for the beauty-seeker looking for the qualities of a beauty balm with additional coverage for stubborn dark spots, age marks or blemishes. These lightweight formulas harness innovative ingredients for long-lasting benefits, making the DD Creme and DD Concealer truly unique.
Julep DD Creme offers buildable coverage with an ultra-smoothing finish, while providing SPF 25 for daily defense from the sun. The complementing DD Concealer disguises and diminishes the appearance of dark circles, discoloration, redness, blemishes, and other skin flaws with age-defying antioxidants to protect delicate and damage-prone areas of the face. Both products go beyond the original BB formulas with ingredients to moisturize, prime, perfect, and protect–both instantly and over time.
"Julep broke into the beauty space through our Maven program when we began including beauty exclusives like Julep mascara and lipstick for our subscribers to enjoy with their nail color," says Jane Park, CEO and Founder of Julep. "We've received an overwhelming number of requests to broaden our reach in beauty, and a response to the multitasker makeup trend seemed a great place to start. Our loyal Mavens have inspired us to create truly revolutionary products we believe in, including the new DD Creme and Concealer."