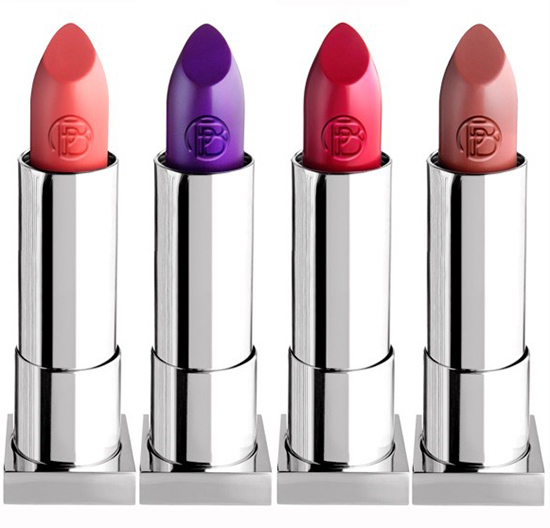 Hot on the heels (and we mean high heels!) of Velvet Rope comes Silver Screen, the sexiest, sassiest lipstick to date from Lipstick Queen. Founder Poppy King explains "While Velvet Rope paid homage to Hollywood glamour with its rich velvet finish, Silver Screen pays homage to its sassiness. Its rich yet wet feel is inspired by the slinky ladies of the silver screen. If this lipstick could walk it would sashay. My most vixen lipstick to date!"

The term 'silver screen' comes from the actual silver content embedded into the material that was used in the early days of the motion picture industry. The screens had a highly reflective surface that was extremely flattering to the women up there on the screen. The texture of the new Silver Screen lipsticks has been designed to have this exact same effect on each and every woman wearing it; enshrine her look with a flirty and sultry finish.
This glossy, wet-look effect is achieved with a high percentage of an innovative new active ingredient Pomegranate Sterols. This 100% natural active, derived from the pomegranate fruit, improves the barrier-function of the lips, keeping them soft and hydrated for longer, whilst also ensuring the intensely glossy look and feel of the lipstick. The formulation is further enhanced with anti-oxidant vitamin E, moisturizing plant oils, beeswax and skin-perfecting vitamin A, which ensure lips stay nourished and comfortable all day long. And just as with Velvet Rope, Silver Screen contains a high quality peppermint oil which releases its invigorating natural scent upon application.
The palate is a kaleidoscope of slinky siren shades ranging from a magnetic deep purple to sexy watermelon, to flirty nudes and a seductive wine. Each shade derives its name from an iconic line in a classic movie.
Encased in the same stunning packaging as Velvet Rope but this time in silver, Silver Screen is an extraordinary object to own and it feels equally extraordinary to wear. Poppy says "Pulling this out of your handbag feels like pulling out a piece of the Manhattan skyline and the endless possibilities that come with it."
Silver Screen ($50.00)
Come Up

Chic, vibrant baby rose

Made It

Mouth-watering deep wine

Play It

Exotically glamorous hot pink

See Me

Head-turning, playful peach

Stella!

Show-stopping purple with a flash of shimmering turquoise

Have Paris

Iconic pillar box red

You Kid

Understated yet eye-catching nude