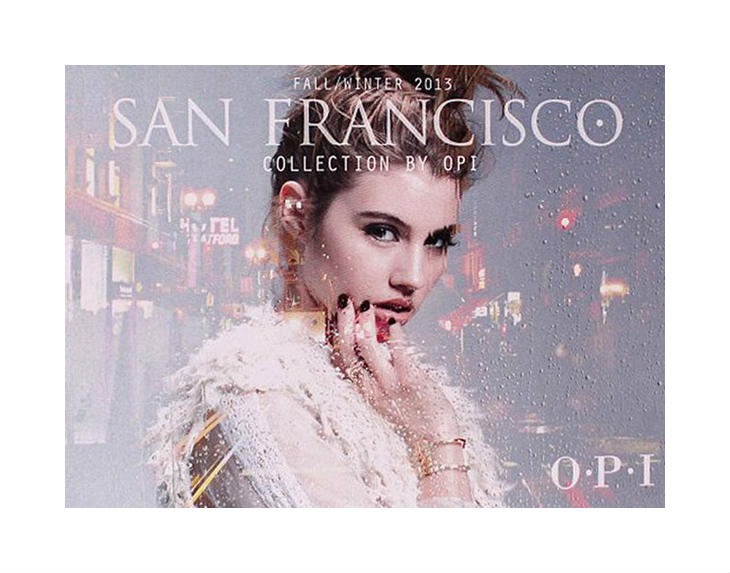 OPI is launching its Fall/Winter 2013 Nail Lacquer line in August 2013.
San Francisco by OPI brings street chic style with West Coast flair to nails and toes for Fall/Winter 2013. This new collection features a palette ranging from sky and sea-colored hues of blues and gray to reds, burgundies and browns inspired by some of the city's most iconic elements – Chinatown, the Golden Gate bridge and the Embarcadero.
This fall mélange is mixed with texture, seen in three new Liquid Sand™ nail lacquers in earthy hues of taupe, blue and gray: It's All San Andreas's Fault, Wharf! Wharf! Wharf! and Alcatraz…Rocks. Liquid Sand lacquers dry to a textured, matte finish, infused with reflective sparkle.
A-Piers To Be Tan
Dining Al Frisco
Haven't The Foggiest
Peace & Love & OPI
Keeping Suzi At Bay
Incognito In Sausalito
Lost On Lombard
I knead Sour-Dough
Muir Muri On The Wall
In The Cable Car-Pool Lane
Embarca-Dare Ya! 
First Date At The Golden Gate
It's All San Andreas's Fault (Liquid Sand)
Wharf! Wharf! Wharf! (Liquid Sand)
Alcatraz…Rocks! (Liquid Sand)