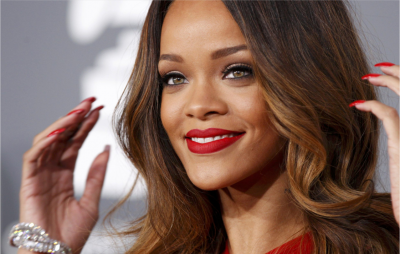 Rihanna and MAC have teamed up to create four cosmetic collections called the RiRi (Hearts) MAC line due to launch this year. It is the first time the brand has worked with a celebrity on anything other than a one-off project. Read more after the jump.
"Working with MAC, it's difficult to get a red lipstick that beats Ruby Woo, because it works on every skin tone.I had so many different samples to choose from and so many different colours underneath – blue, yellow, orange and pink bases. And I got to pick one that worked, and I tried it on all my friends to make sure it worked on all of our skin tones."
The first product we'll see is MAC RiRi Woo–inspired by the classic MAC Ruby Woo that will launch May 4th . It will be sold online and at Rihanna concerts. The summer collection contains two more lipsticks, a powder blush duo and a bronzer.
The third will be in stores for fall and feature sixteen products, such as lipsticks, a Lipglass version of RiRi Woo, two eyeshadow palettes, and false lashes.
The final installment will hitting the stores in time for the holidays with ten products, like nail polish and more lipsticks. RiRi Woo will be sold in all four collections.