Left: La Beauté de L'Ombre by Judith Hirsbrunner © Beauty Scene; Right: Guess Dress & McQ Shoes © Zalando
Basing Your Makeup on Your Shoes – Beauty trend or fashion faux pas? Is it a bold move or too matchy-matchy? People often make an effort to ensure that the colors of their shoes match their outfits. However, the latest ongoing trend doing the rounds at various A-list events suggests that one's makeup and clothes should in fact match. In order to pull this off, one should focus on the eyes or the lips. Eyes are a crucial part to any glamorous makeup look.
Try using the same color of your eyeshadow as for your shoes to get a dramatic effect. Colored eye liners are also an option to play it up since they are very trendy at the moment. It's a clever way of adding that something to your outfit and making it more interesting. Choose a shade of eyeshadow which is similar to the color of your shoes, but one which is not identical. If you are wearing shoes in a light shade of blue, you should choose a bright or dark shade of blue for your eyeshadow. In case you are wearing dark shoes, you should choose a bright shade for your eyes. However, be very careful, because choosing a shade of makeup which is the exact same color as the one you are wearing may be overdoing it. An option that can be seen as an exception to the rule is matching your lipstick shade to the color of your shoes. Pick a bold lipstick shade like intense pink, classic red, bright orange shades or even an extreme violet or green shade from the latest Dolce & Gabbana Sicilian Jewels collection, and pair it up with a pair of gorgeous heels like the McQ LEX PUNK 90 that are available at Zalando. The two bright pops of color on the lips and feet can work out great if you keep them balanced out with a more neutral outfit (such as black, gray, white or nude) and it actually makes a stronger beauty impact and fashion statement. If you're wearing flats there's no need to emphasize your makeup. Merely achieving a groomed, glowing and fresh faced look that matches your outfit for the day also does the trick. It doesn't necessarily have to be the shoes that make the focal point of your outfit. Pick an accessory which you like that matches the colors to complete the look, but keep it simple, just one accessory to avoid cluttering up.
Do you match your shoes with your makeup? Or do you think that this is just another fleeting beauty trend? Let us know!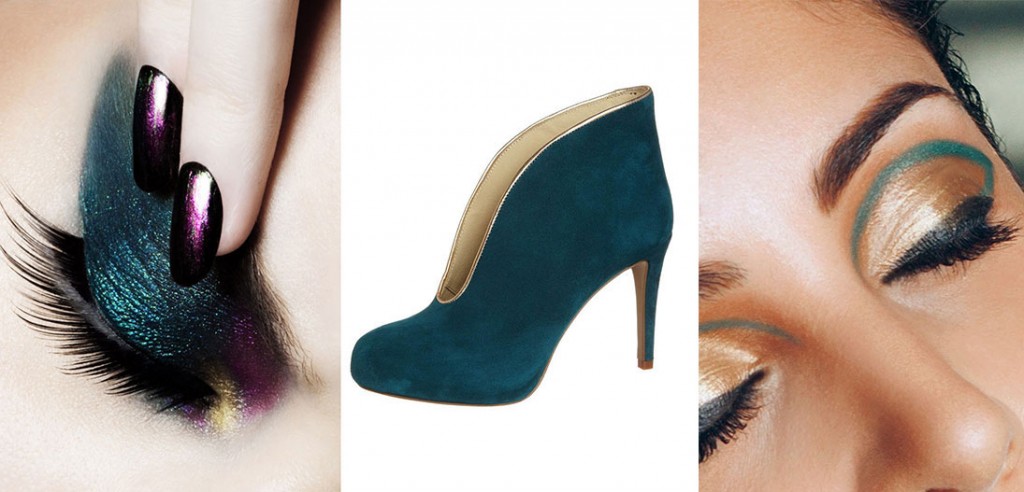 1: Sight by Romain Rosa & Victoria Monvoisin© Beauty Scene; 2: Mentor High heels in petrol © Shopstyle; 3: Alluring Decadence by Johnny Balbalosa© Beauty Scene