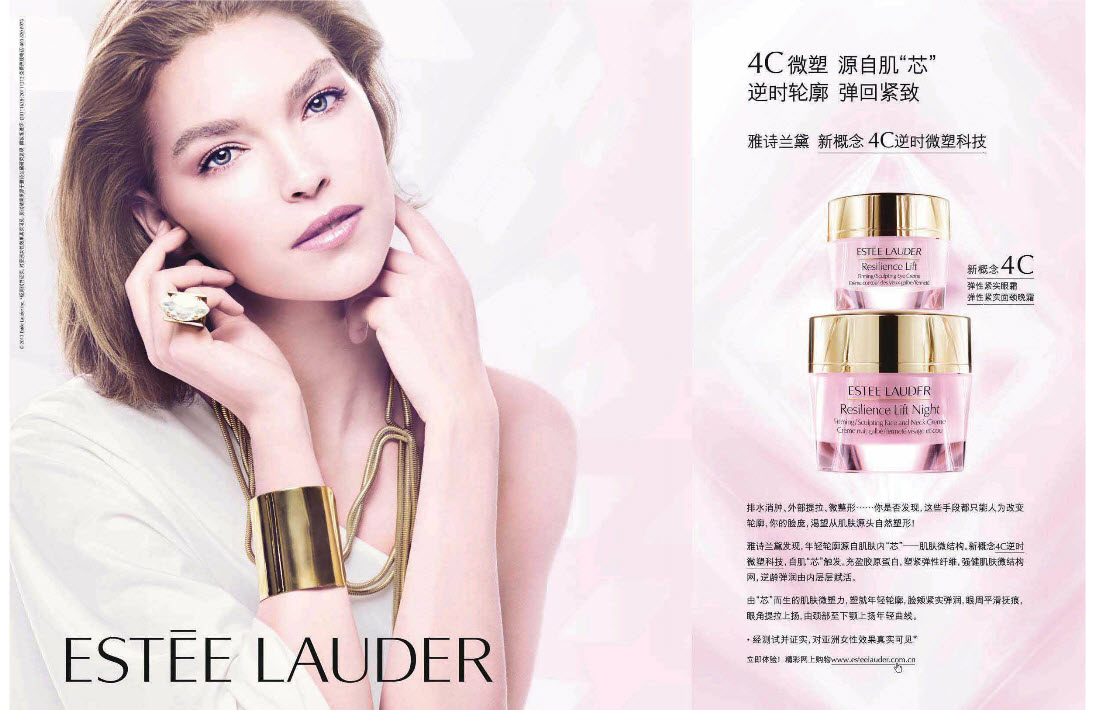 Arizona Muse poses for Estee Lauder ad campaign for their Resilience Lift Line. More about the products and the ad campaign below.
You want it all-the lifted look, the firmer feeling and the radiance that reflects how beautiful you are.Now look as young as you feel with a multi-faceted, 24-hour lift system.
Powered by the exclusive Photo-Activated Lift Complex, Resilience Lift day formulas harness the beneficial power of visible light.
Featuring a light-responsive enzyme (Plankton Extract), mineral (Malachite) and plant extract (Mimosa) to help skin amplify its natural collagen and elastin production.
Over time, skin's strength, resiliency and volume are renewed and you'll see a remarkably younger, revitalized look.
Immediately, skin looks more radiantly alive and fresher-younger.
As you use it, facial contours appear sculpted and newly defined.
Lines and wrinkles look more smoothed out and lifted away.
An advanced blend of lipids and more infuse skin with rich, lasting moisture.
Combined with the Resilience Lift Night Cream, the products promise a multi-faceted, 24-Hour lift.
In clinical testing, 92% of women showed a significantly more lifted look in just 4 weeks.
The Resilience Lift creme is availabl for all skin types.
Normal/Combination creme is lightweight and silky, with just the right balance of richness and refreshment.
Dry Skin creme is richly nourishing.
Both include a gentle sunscreen to provide effective SPF 15 protection.