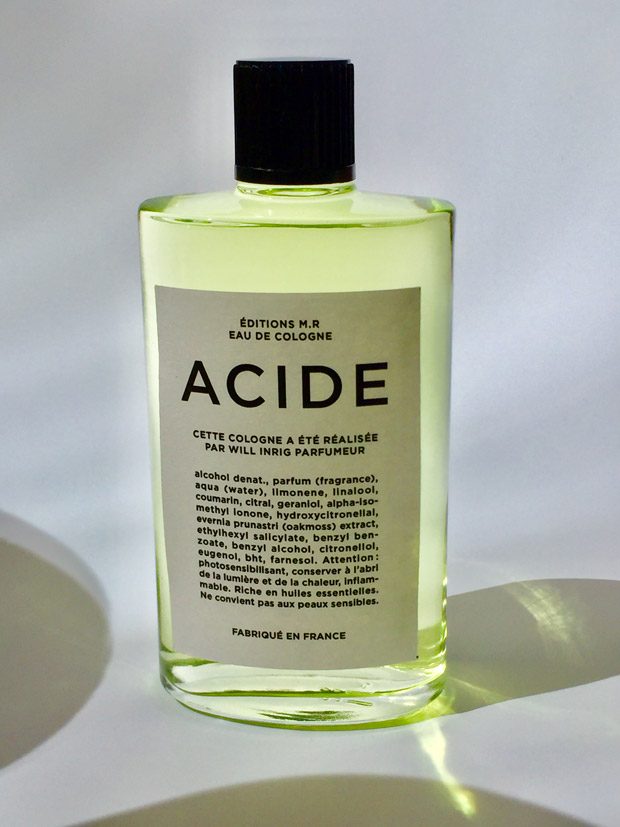 Editions M.R is launching it's first fragrance Acide – bright, sharp, and bold scent with top notes from lemon, bergamot, bitter orange, cognac, middle notes lavender and valerian, and base notes patchouli, oakmoss, and coumarine. Acide was created by perfumer Will Inrig, this is his first scent for a fashion house. Acide eau de cologne splash, 100ml (120€) first edition of 100 bottles will be available from October 11th, at the Paris Éditions M.R shop, Boulevard des Filles du Calvaire.
"Acide The name stings like the first bite in a forbidden fruit, for a scent that sounds like a challenge.
In the idea of a Cologne lies simplicity and the purity of an astringent harmony. Fresh and fleeting, this fragrance is a tart lemon and aromatics accord, balanced with rare naturals of the best quality, accompanied by light florals and woods. This cologne is memory without nostalgia and modernity without fantasy that unfolds in the bottle.
In the bottle is the splash of a yellow-green almost-chemical juice that is as much a promise of artificial exoticism as it is a reminder of the star ingredient of Colognes, a bracing citrus. Amplified to excess, lemon oil from Sicily reveals its complexity, prolonged and underlined by lemonile, a modern synthetic with a metallic citrus-herbal odor. Blended in a sparkling yet lush cocktail are raw bergamot oil – the real deal, regardless of what IFRA says –, cognac oil and bitter lemon touches of neroli and petit grain. Lavender absolute from the Drôme region of France lends its deep-floral, hay aspects while valerian breathes an atmospheric ambiance through its sensual, carnal and herbal note that intrigues, repels but ultimately compels. Finally, absolute rarities beckon: not only a 35-year old patchouli oil, matured like fine wine, but also raw oakmoss absolute, currently on a watchlist by regulators and perhaps soon out of reach for perfumers."
In charge of photography was Philippe Lacombe, with artistic direction from Atelier Franck Durand.