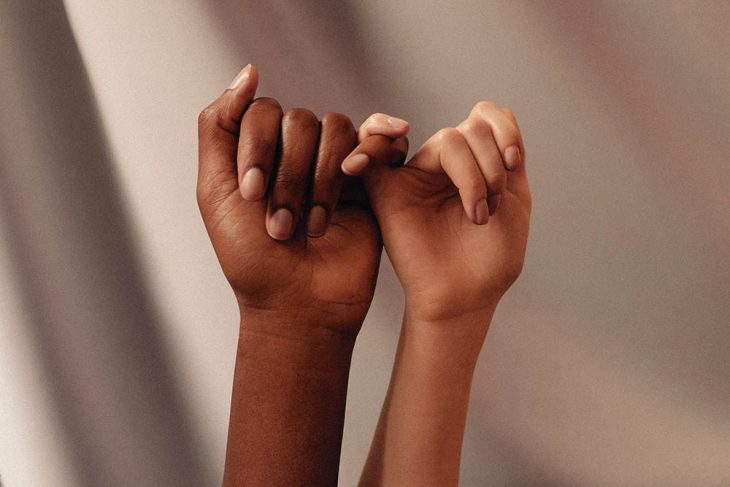 Many of us have a regular beauty regimen that involves our face and hair. Some of us focus on our feet, backs, and even our buttocks. But when it comes to our skincare routines, we often neglect our hands.
As one of our most visible body parts, our hands are regularly seen by both ourselves and everyone around us. Therefore, we generally want them to look — and feel — good.
We often try to accentuate our hands. For example, we might get a pretty manicure or accessorize with cute rings or dainty bracelets. But no amount of accessories can reduce the appearance of dry skin. Fortunately, there are a number of things we can do to combat this problem. Here are five skincare tips for beautiful hands.
1. Moisturize Your Skin
To reduce skin dryness, it's important to use a high-quality moisturizer or hand cream. Be sure to opt for a product that contains Shea butter, which helps lock moisture into your skin. It's also ideal to choose a product that contains an oil like olive oil or coconut, since these tend to be very hydrating. Just as important as choosing the right moisturizer is knowing when to use it. The best time to moisturize is right after a shower to lock moisture into your skin. It's important to moisturize your hands more frequently during the winters, since the harsh temperatures can take a toll on your skin.
2. Never Cut Your Own Cuticles
Most of us are taught from a young age that it's better to cut our cuticles than pick them. While cutting is the better alternative of the two, one of the best-kept skincare secrets hand models recommend for more beautiful hands is not cutting your cuticles. Not only does cutting the cuticles open your skin up to bacteria and infections, it also causes irritation and encourages your cuticles to grow back faster.
Most of the time, we don't actually need to remove our cuticles. After showering, use a wooden stick to push cuticles back to increase the length of nail beds. To reduce cuticle dryness and roughness, use a heavy moisturizing ointment or petroleum jelly like Vaseline.
Even when we take preventive measures, cuticles can get dry, hard and painful. If you absolutely must remove your cuticles, use a cuticle removing product or leave it to a professional.
3. Avoid Overwashing Your Hands
Since the global pandemic, most of us are washing our hands more than ever before. Unfortunately, washing your hands too frequently can lead to dryness.
Luckily, there are things we can do to prevent handwashing from being a problem. For smoother skin, replace some washes with a nourishing hand sanitizer. Be sure to apply hand cream or moisturizing lotion in between washes to help further reduce dryness.
4. Keep Hands Protected From Cold Weather
It's important to keep your hands protected from cold temperatures. Be sure to wear gloves when it's cold outside. If you're going to spend a significant amount of time outdoors, consider using a product containing beeswax to retain moisture and prevent skin chapping and cracking. This may be a good option if you ski or snowboard or if you plan to spend a lot of time outside shoveling snow.
5. Use SPF On Your Hands
Protecting your hands during the summer months is also important. Sunscreen offers both short- and long-term benefits for your skin. It will prevent the risk of sunburn and blistering from happening right now and reduce skin damage from occurring over time.
These are just a few skincare tips for beautiful hands. Following this advice can help ensure your hands look smooth and healthy.