When it comes to Bridal trends lace materials are a must-have, if you are on the lookout for a lace wedding dress you will find one in each season. Whether you are buying material for a lace wedding dress or purchasing an already made one you will definitely need some inspiration. Finding the perfect hair and makeup for your wedding day is no doubt much easier task then selecting that dream wedding dress, or two.
Our editors compiled some of the best lace wedding dresses from the latest Bridal Spring 2020 collections. Some of the dresses catching our eye this season come from fashion houses such as Carolina Herrera, Zuhair Murad, Vera Wang and Monique Lhuillier to name a few.
Scroll down for all the inspiration you will need this season: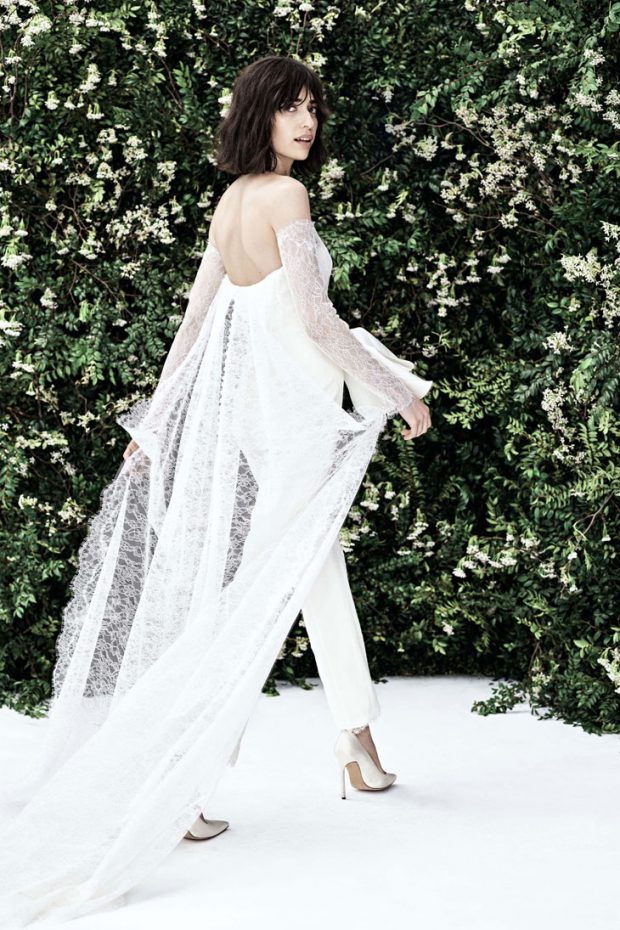 Fashion Designer Carolina Herrera is a legend in the fashion industry, and in addition to her widely popular ready to wear and fragrance lines she is a go-to fashion house when it comes to Bridal collections. While Carolina Herrera's 2019 Bridal collection almost entirely removed lace from it's bridal gowns, the latest is a big comeback for the material. Standing out for us is a combination of trousers and a long lace veil bringing that airy magic to your outfit. Herrera's fashion design director Wes Gordon also uses lace to create the special sleeves complimenting the outfit.
New York based design studio Danielle Frankel is predominately known for it's modern bridal collections. For the spring 2020 collection designer and her team are staying true to the needs of a modern day bride. The collection takes on the classic floor length gowns in addition to delivering the more contemporary style. Standing out for us is this stunning sartorial suit jacket piece, which if you wish can be combined with a skirt or trousers, but it also stands on its own and as a head turning suit-dress made entirely of intricate lace.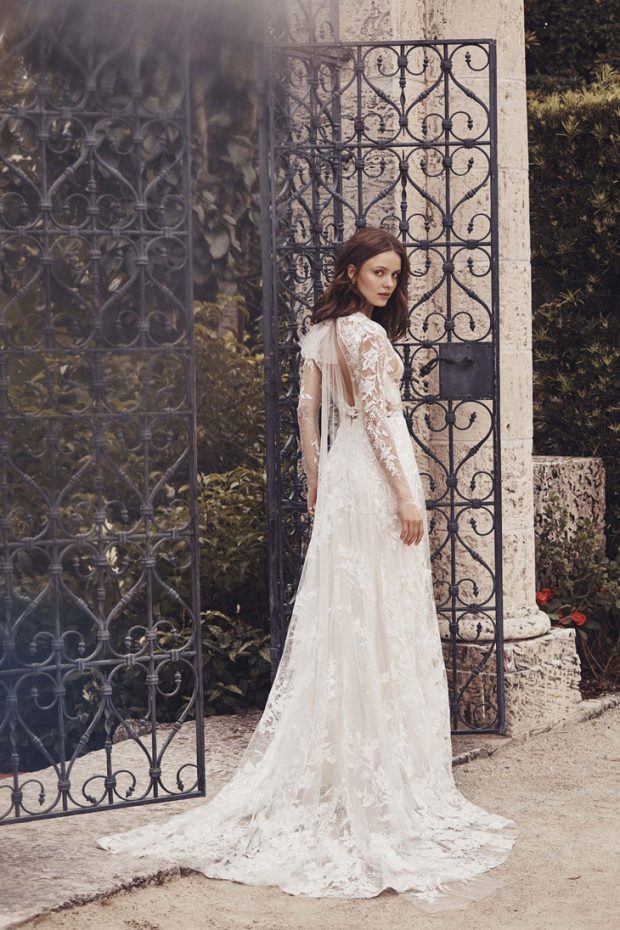 Fashion designer Monique Lhuillier has concentrated nowadays most of her business on the widely successful bridal collections. For the spring 2020 collection the designer had in mind reshaping the lines of a dream wedding dress into timeless pieces lasting for generations. If you are up for such a task it is hard to miss lace as the main material to use, for us standing out is this floor length white dress entirely covered in lace, with see through lace detailing forming the embroidery on the sleeves.
Fashion designer Naeem Khan takes the traditional route when it comes to his latest bridal-wear collection. Naeem Khan's team for it's latest collection put itself to the task of re-imagining what a princess wedding dress actually is. In fact, Khan and his team realized the market has grown tired of the classic 'princess' dress. With it's bold 2020 design cuts standing out for us is this leave embroidered white lace dress evoking the effect of endless transparency. However something tells us a modern bride like Meghan would already start picking out her wedding makeup for a Naeem dress!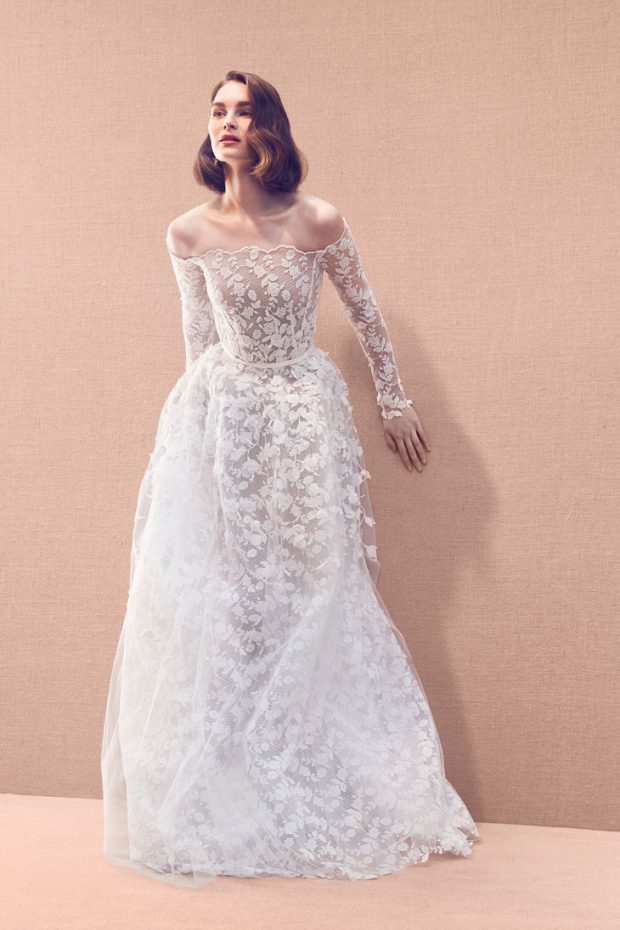 When it comes to the legendary Oscar de la Renta whether we are talking ready-to-wear or bridal his dresses are on the top of the list of many women around the globe. Unlike Naeem, the Oscar de la Renta creative heads Fernando Garcia and Laura Kim find a fascinating way to create a true princess experience. The Oscar de la Renta princess is without any question a modern day bride, yet opulent is the best way to describe her. You will enjoy looking at your professional wedding albums after.
Fashion designer Reem Acra has no doubt had a royal wedding on his mind when designing the spectacular looks sent down the runway of his fashion show in New York city. This floor length floral lace beauty grabs our eye, with a fairy tale like veil – the groom might have to work a bit harder in that kiss the bride moment tho.
Fashion designer Tadashi Shoji is no stranger to the red carpet, he's a go to designer for many Oscar darling actresses each and every red carpet season. Shoji is also known and praised for making his striking gowns in full-figured sizes. For the summer 2020 the designer and his team have prepared a set of dreamy dresses, we are absolutely obsessed with this floor length light lace no shoulder pieces.
If there's a Queen of Bridal that is the New York based fashion designer Vera Wang, a favourite of numerous celebrities Vera is one of the most known designers when it comes to Bridal. While Bridal is her hot ticket she is still widely popular with her massively successful ready to wear business as well. Believe it or not this is Vera Wang's 60th bridal collection and there is no stopping for her! The latest collection is far from recycling the designers most popular styles, instead it re-imagines the use of lace and tulle when it comes to bridal. Our favourite is a full-lace corseted piece from the collection.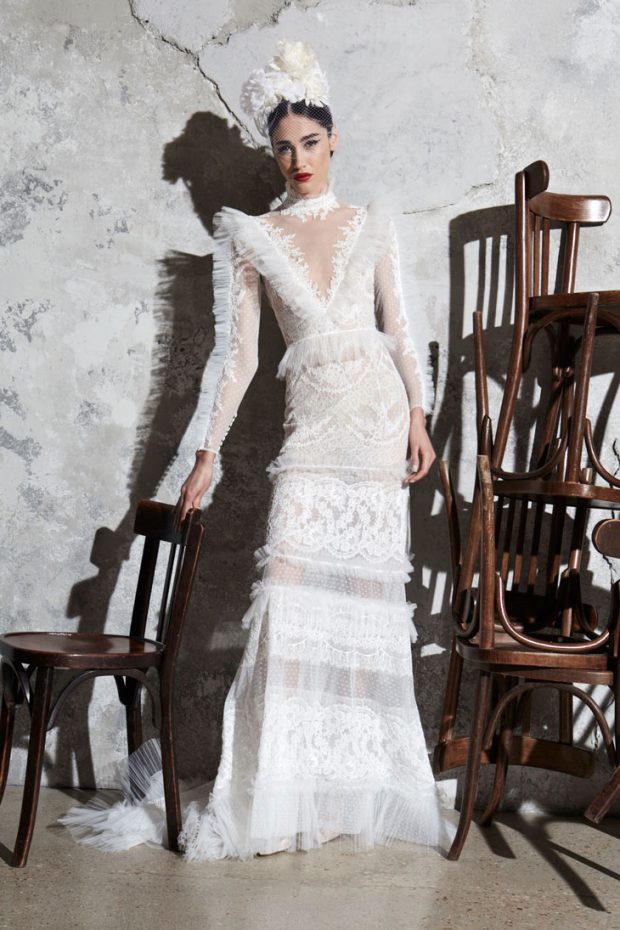 Finally, fashion designer Zuhair Murad is a must on every bridal list you can imagine. The designers 2020 collection is a dream come true for every bride. We singled out this striking lace covered piece, with intricate lace detailing as our favourite of the collection.
Which one is your favourite? Let us know in the comments below: