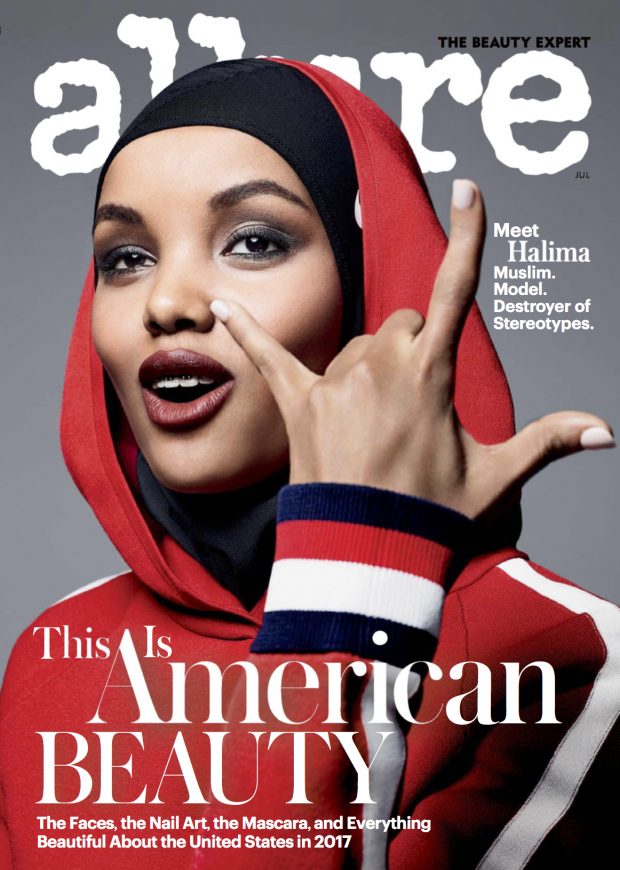 The sensational HALIMA ADEN is The Face of Things to Come taking the cover of ALLURE Magazine's July 2017 issue. In charge of the photography was the renowned Solve Sundsbo, while Halima was styled for the shoot by Beat Bolliger. Halima is represented internationally by the prestige IMG Models.

Born in a refugee camp in Kenya, she moved to the U.S. with her mom at age seven and grew up in St. Cloud, Minnesota, a town of about 65,000. The summer after graduating from high school, she filled out an application for the Miss Minnesota USA pageant, which awards scholarships to winners. The pageant accepted her. Then a tiny obstacle presented itself: the swimsuit portion of the event. Aden was raised Muslim, and strutting across the stage in a bikini didn't quite accord with her interpretation of Islam; she prefers to dress modestly, wearing a hijab in public and clothes that aren't too short or too tight. She asked the pageant organizers if she could wear something with a bit more coverage. "Absolutely," they said. – from Allure
For the striking session Halima is wearing Stella McCartney, Chloe, Louis Vuitton and Nike to name a few.
Scroll down for more of the striking cover story,.
Magazine: Allure – www.allure.com
Issue July 2017
Photographer Solve Sundsbo
Fashion Stylist Beat Bolliger
Hair Stylist Philippe Tholimet
Makeup Artist Val Garland
Manicure: Marian Newman
Model Halima Aden
Read more at Allure official web page.