Discover DSCENE Magazine's twelfth Winter 2019-20 edition featuring cover stars Bambi Northwhood Blyth, Elfie Reigate, Anais Pouliot, The Dupont Twins and Kit Butler. The new issue, with stories captured in Milan, New York and London, reflects the moment between the two decades.
See more from the new edition below:
Australian supermodel Bambi Northwhood-Blyth talked with us about her modeling career, beauty routines and about living with T1D as well as raising awareness for it. In charge of photography was Emily Soto, with styling from Rachel Gilman.
I love Environ skin care, their sebu line as well as ACE oil and LightStim, LED lights. You can easily travel with them, they are amazing. Skyn Iceland make the best sheet masks and eye gels. Beauty is skin, hydrate, ice, and I love Laura Merceir, NARS Cosmetics and Charlotte Tilbury.
Supermodel Kit Butler teamed up with our fashion photographer Igor Cvoro and Milan contributing stylist Stefano Guerrini.
The rising star on the modeling scene (and the first model ever supermodel Kate Moss signed to her agency) Elfie Reigate posed for PJ Lam, in looks selected by Lyla Cheng.
I think every model is convinced they are somehow going to fall over and break their leg during their first ever show. It's really not that difficult, you just walk but somehow even that seems really difficult.
Jake and Joseph Dupont take the pages of our latest edition with cover story captured by photographer Aral Reartes, and styling by Barbara Velez.
We've manifested everything that we've gotten so far. When we were young we dreamed of working with Gaga and it happened. Everything happens because we want it so bad and we know we're going to get it. We will stop at nothing. In 10 years, I'm sure we'd be well on our way in making our brand if we wanted to. We also want to give back and to create foundations for people who didn't have the support that we had. A lot of people need somewhere to go, if you're gay, straight, trans, black, white, whatever. We want a free and safe space where everyone can come and create together and to house some people who are sick or got thrown out of their homes. We want to give back to our community.
Top model Anais Pouliot is the star of the beauty pages lensed by Takahiro Ogawa, styled by Damien Vaughan Shippee, with beauty from hair stylist Tetsuya Yamakata, and makeup artist Tadayoshi Honda.
Also read exclusive interviews with Amy Smilovic the Founder and Creative Director of TIBI, artist Vuk Cuk and one of the leading NYC interior designers Daun Curry, in the Winter 2019-20 edition of DSCENE Magazine.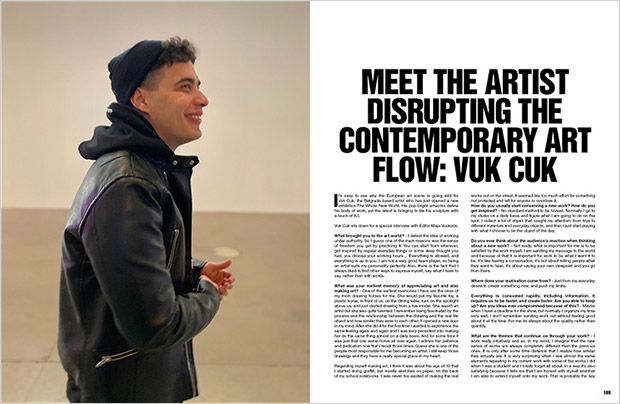 Contributing Photographers: Arale Reartes, Emily Soto, Fabio Leidi, Fernando Gomez, Francisco Gomez de Villaboa, Kimber Capriotti, PJ Lam, Takahiro Ogawa
Contributing Stylists: Alton Hetariki, Barbara Velez, Gina Marie Barbaro, Lyla Cheng, Rachel Gilman, Stefano Guerrini
Contributing Writers: Sheri Chiu