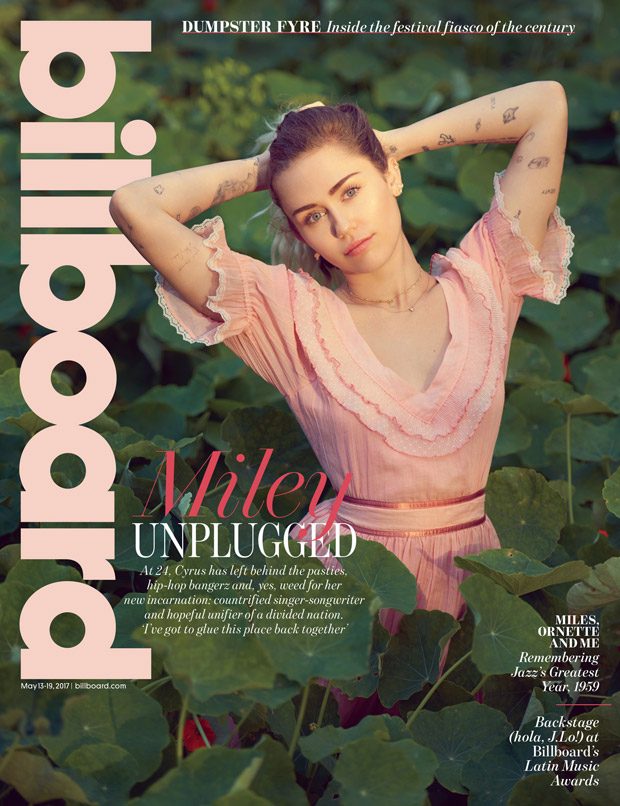 American superstar Miley Cyrus takes the cover story of Billboard Magazine's May 2017 edition captured by fashion and celebrity photographer Brian Bowen Smith.
"I always get in trouble for ­generalizing straight men, 'cause straight men can be my worst nightmare ­sometimes. And I'm with a straight dude. But he's always like, "Well, don't call me that!" I ask him sometimes, "Do you like being a boy?" And he's like, "I don't really think about it." And that's crazy to me, because I think about being a girl all the time. I'm always like, "It's weird that I'm a girl, because I just don't feel like a girl, and I don't feel like a boy. I just feel like nothing." So when someone's too ­masculine, that really grosses me out.
But then, girls really make me sad a lot of the time too, especially right now. I think fashion has taken us a little bit downhill. I can only speak for the years that I've been alive, but I don't know if it has ever been so important to "fit in." It's not about standing out right now. Which is so weird, because it seems like for the really unique, smart kids in this generation, it's all about standing out. I love seeing these kids on Instagram that dress fucking dope. This whole world right now is so divided, in the arts, fashion — everything." – Miley on gender generalizations.