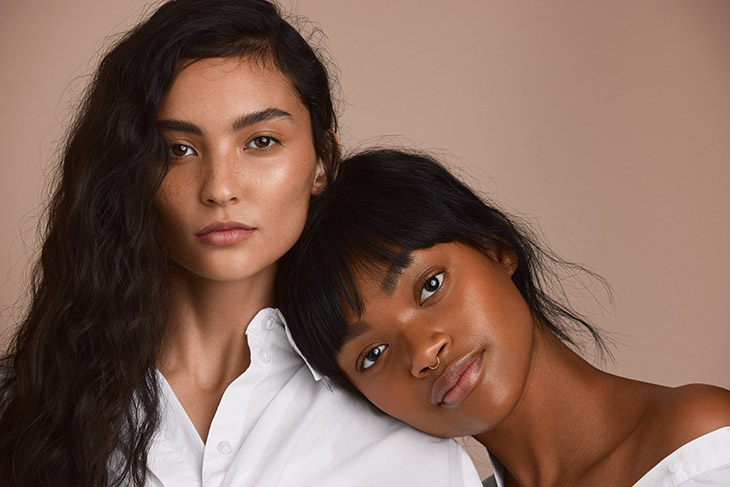 Beauty photographer Catherine Harbour captured The Skin You Are In story for BEAUTY SCENE EXCLUSIVE featuring models Lilly and Erin at Select, Symone and Krisley at Linden Staub, Alex at Next, and Mathilda at Sister Scouting.
In charge of styling was Holly Coopey, with creative direction from Jess Williams, and retouching by Victoria Kim. Beauty is work of hair stylist Claire Healey, and makeup artist Scarlett Burton.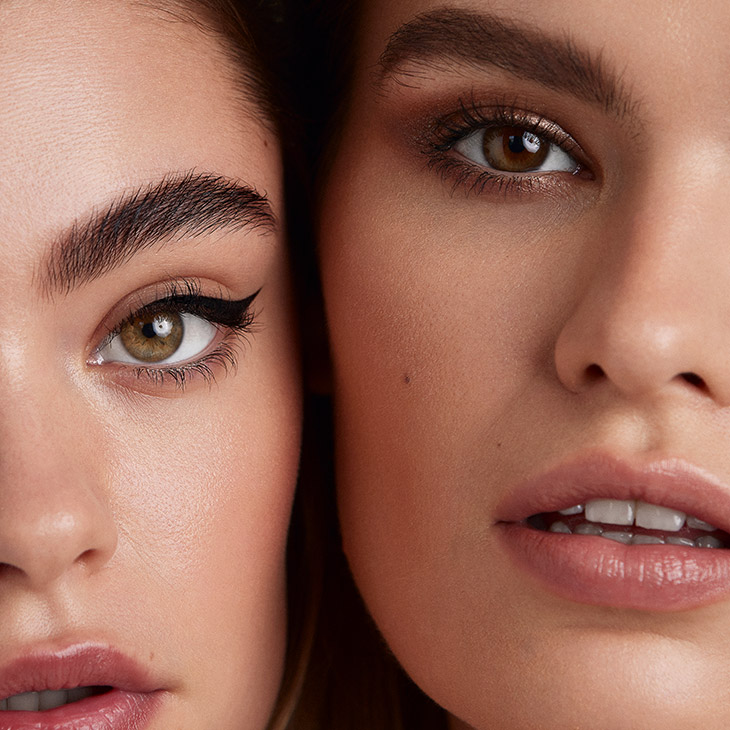 Learn to pin point powder for a dewy finish on the skin. Look where there is shine on the skin that you want to keep and that you want to minimise. As a rule, the t-zone area will be best to powder as well as under the eyes to set any concealer. Leave the cheekbones bare for a natural glow.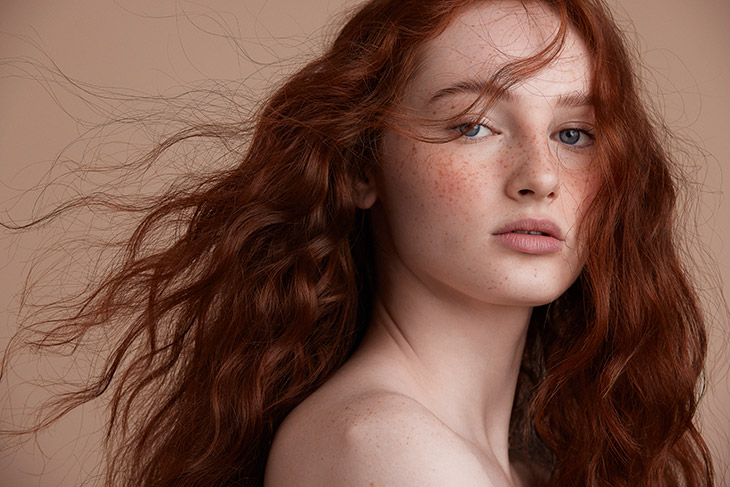 Pair fresh, natural skin with a matte nude lip for contrast. Try a lip liner in a similar tone to your lip colour and softly buff in for emphasised colour without it looking like lipstick.

Go light on the base if you're preparing for a more obvious eye makeup look. Try a tinted moisturiser or CC cream for hydrated sheer skin rather than a foundation so that it balances the bolder eye.

If your skin is feeling good and looking its best, skip foundation completely and use concealer to cover any blemishes and redness, leaving the best areas of the skin to shine through.

Let natural freckles shine through any base makeup by applying foundation very lightly across the nose and cheeks to keep the application sheer. Try mixing with a little moisturiser if needed.

Fresh, luminous skin means plenty of skincare prep and illuminating primers to enhance the skin's natural glow, however this can interfere with eyeliners if not prepped properly. Use a loose powder to set the lid which will stop any oils from the skincare moving the liner.

Blush can really lift the skin to create natural warmth. Opt for a creamy or liquid texture for the most luminous finish and blend over the cheeks where the skin would usually flush when warm.
Photographer Catherine Harbour – www.catherineharbour.co.uk
Creative Director Jess Williams – jessbcreative.work
Stylist Holly Coopey – www.hollycoopey.com
Hair Stylist Claire Healey – www.clairehealey.com
Makeup Artist Scarlett Burton – www.scarlettburton.com
Retouch Victoria Kim
Models Lilly and Erin at Select, Symone and Krisley at Linden Staub, Alex at Next, Mathilda at Sister Scouting