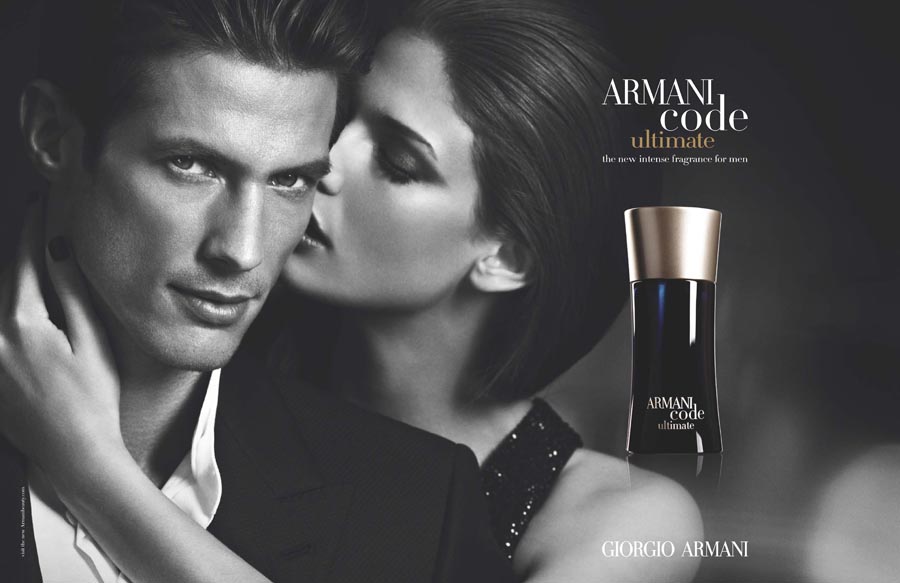 Armani Code Ultimate is a follow up to the signature Giorgio Armani Fragrance Armani Code from 2004. It has launched in August 2012. The new edition aims to be more intense, sensual and luxurious than its predecessor. The composition is signed by Antoine Maisondieu of Givaudan.
The top notes are shaped like a pungent mix of citruses (grapefruit and mandarin orange), juxtaposed to the unmistakable accord of star anise. Then, as the scent advances into its mid development stage, Code Ultimate turns to a floral woody facet highlighted by accords of cedar, cypress and heliotrope. After more than one hour, I was able to perceive the first accords from the dry down, in which the most obvious were the accords of vanilla and olive blossom, joined later by a combination which involved Tonka bean and guaiac wood in the composition.
The bottle is made from the same dark blue opaque glass with curvy shapes, except this time the stopper comes in gold, in order to differentiate it from the original.
Overall, I'll say that It still has a good bit of the original code in itself, but in many places it's different. It is heavier and more profound than the normal code. It seems like it has become even more versatile and a little darker in some places really profound and mysterious, very great!
It is definitely a winter scent,it is way too heavy for the summer. Vanilla paired with delicious citrus fruit is in the foreground and makes the scent a true compliment and woman magnet!
The longevity is up to 8-9 hours, which is pretty good,but from an ultimate edition we would expect at least 12 hours. Armani Code Ultimate falls into a current trend. It is a lot stronger than the original.
It will please the fans of the original, in search of something new, but with a twist. So, don't be afraid to give it a shot.