"An explosive take on the most dangerously sophisticated fragrance for men"
James Bond 007 has launched James Bond 007 Quantum,  the third installment to the dangerously sophisticated James Bond 007 fragrance line, following James Bond 007 and James Bond 007 Ocean Royale. Quantum comprises a truly masculine and invigorating array of ingredients, combined to bring to life Bond's sense of cool under pressure.
For over fifty years 007 has captivated audiences with his mesmerizing confidence, unfailing composure and ability to keep cool under pressure – anytime, anywhere. Just as 007's senses are awakened as he rises to the challenge, this intensely masculine fragrance invigorates body and mind allowing every man to harness fast-thinking and cool calm to accomplish the mission ahead with Bond-like confidence.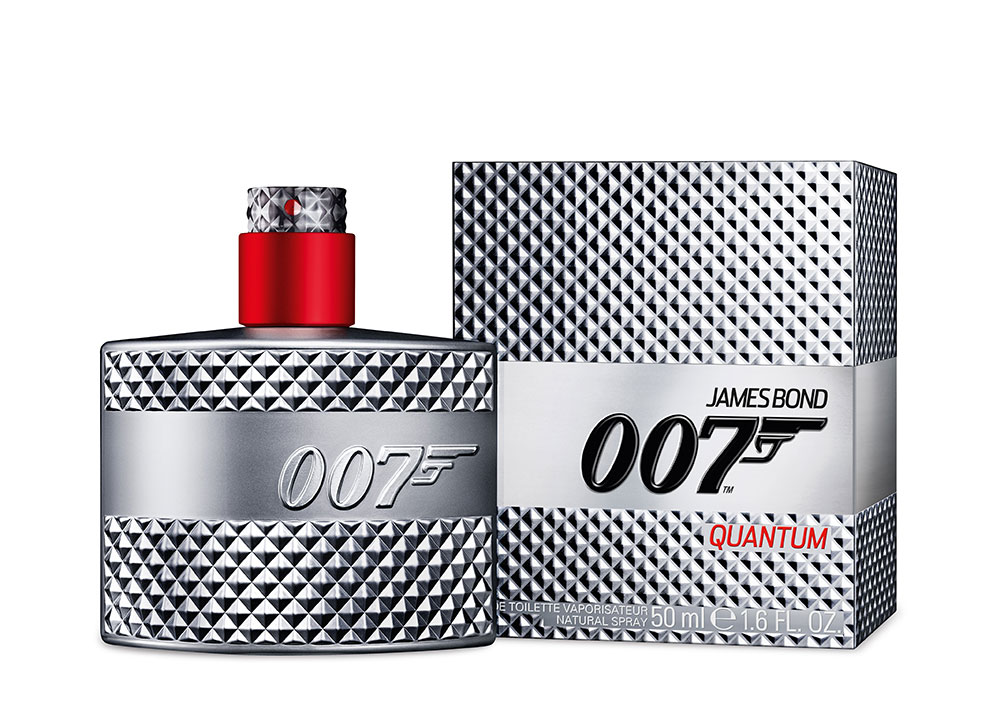 Quantum Quantum, comprises a truly masculine and invigorating array of ingredients that bring to life Bond's experience and reassurance with his controlled confidence- an invincible combination when the stakes are high.
The fragrance has a two phase character, enabling every man to acquire the very essence of Bond like composure:
The Raw Masculinity Accord in the fragrance drives reassurance, via a classic masculine groomed scent character generations of men will relate to. Quantum opens with intensely potent Juniper Berries, evocative of Vesper Martini, with the resonance of Bergamot imparting an energizing citrus hit, to reflect Bond's anticipation for the challenge. The deep woods of this accord are consistently masculine in their scent character, with the influence of Sandalwood in particular being associated with spiritual calm and focus – a virtue Bond is renowned for.
The Composure Accord takes action to complement and invigorate Bond's readiness, reflected through the Raw Masculinity Accord. The reminiscent scent of leather, a luxurious and robust material featured in Bond's elite and exclusive sports cars, is a key component to the Composure Accord; imparting its timeless and deep aroma to convey Bond's intense metal focus. Enhanced by fragrant Violet Leaf, the Composure Accord awakens the senses enabling men everywhere to keep their cool when the stakes are high.
The flacon retains the shape of the original 007 fragrance,but this time with a gloss silver glass finish  that depicts the elegant and truly distinguished designs of Bond's infamous car collection and the cap, this time in "danger" red. 

The television campaign captivates us in the world of Quantum as we witness the intriguing, mystery Bond character ready for action. Quantum's TV commercial builds on the dangerously sophisticated debut campaign for the signature James Bond 007 Fragrance, shot and directed by 007 photographer Greg Williams.
James Bond Quantum is available as 30,50,75 and 125 ml Eau de Toilette, at Harrods since August 8th 2013, and since September 18th nationwide (UK). The price point is very reasonable( £20 for the 30ml bottle, and £42 for the largest, 125ml bottle).