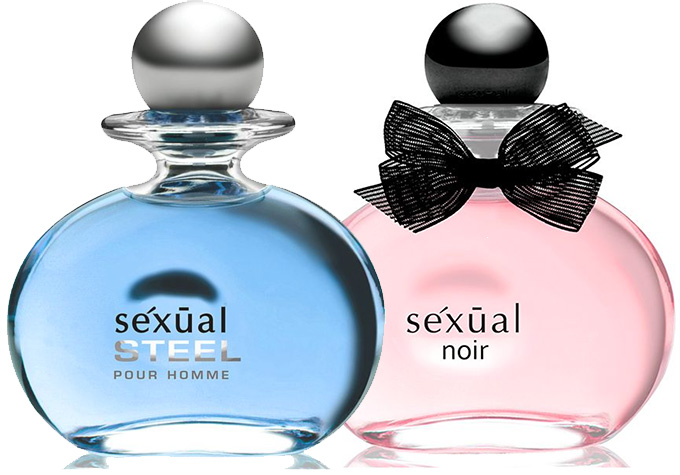 Michel Germain has launched two new fragrances, Sexual Noir and Sexual Steel Pour Homme.
Sexual Noir is a sweet fruity floral fragrance.
 "Sexual Noir, The mysteriously playful cocktail of sophisticated and intriguingly sensuous femininity. Playfully succulent mandarin and sweet strawberries flow into a sophisticated palette of mysterious patchouli, pink orchid, and deceptively innocent pink sweet pea flower. Ever-present feminine aphrodisiacs enfold classic vetivert and inviting, warm notes of vanilla and amber."
It is available as 75 and 125 ml Eau de Parfum at Macy's.
Sexual Steel Pour Homme is a cold metallic fougere with a modern rhubarb accord in the top.
 "Sexual Steel. Turns a man into a masterpiece. Infused with masculine aphrodisiacs, Sexual Steel is an intensely charismatic melding of virility. A cool, sharp opening of fresh ginger and velvety smooth bergamot gives way to magnetic lavender spiked with crushed black pepper. This intensely virile fragrance dries to a seductive mix of metal accord, masculine leather, and musk."
Available as 75 and 125 ml Eau de Toilette.