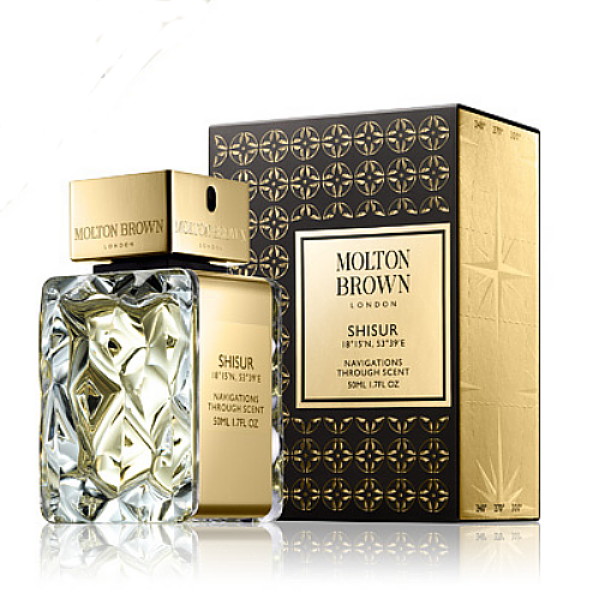 Molton Brown has launched Shisur, a new addition to their Navigations Through Scent series. According to Juris Zarins who wrote the article Atlantis of the Sands published by the Archaeological Institute of America Shisur is,
"…a ruined city some 90 miles northwest of Salalah on the edge of the desert. A permanent spring there had attracted people since the Neolithic (ca. 5000-2500 B.C.), and a fortress first built during the Bronze Age (2500-1300 B.C.) was in use until A.D. 1500. Bedouin still camp there year-round. […] It was very possibly one of the cities that gave birth to the Ubar myth."
To emphasize the multicultural aspect of the project, the brand use the tagline "London via Oman."
"May contain mystery. A thousand Arabian nights in a city beneath the sand; a legend bathed in golden slumber.
The forgotten spectacle of trading glory, rediscovered in the heady oil of oudh, brooding and rich.
Opulent. Precious. Intense."
The new Eau de Parfum opens on top notes of orris and caraway oil developing into a heart of saffron, frankincense and cedarwood oil while the base showcases a "heady oudh accord."
Oud does not denote a note or a facet anymore. It has truly become a genre like the Chypre genre which emerged in the beginning of the 20th century in its consolidated institutional form. It is fascinating to be able to witness such a cultural shift and not just read about it in history books.
We've decided therefore to turn into a bit more of an observatory of the expanding Oudh genre with a new Oudh Notebook section to which we'll add back posts and future posts.
Molton Brown Shisur is available now at Molton Brown in the UK, £90 for 50 ml.