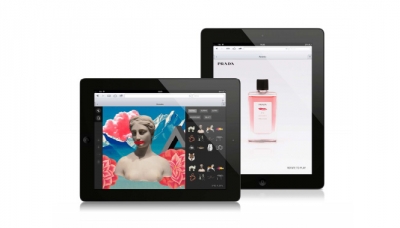 Happy Valentine's Day!

Today, Prada has launched a special app linked to the 'Exclusive Scents' collection. It is dedicated to 'Rosetto' the 14th in the limited edition category. Developed in collaboration with Michael Rock/2×4, it's a platform for users to create their own mood boards topped off with the signature of the new fragrance, the red lip. Classic Prada.
All of the artwork within the app, which users select from, has been designed by Michael Rock. It is our goal, with your support, to drive user traffic and the creation of mood boards. The most special will be fed through Prada's social media channels. Let us know what you think.
N°14 Rosetto is pertinently founded on the most feminine device that is lipstick. It is a fragrance informed by layers of reference but considered in a modern context. And whilst No 14 Rosetto might be evocative of a bygone era, with its classic inclusion of violet and rose, it is it synthetic accords, proudly featuring for the first time in the exclusive scents collection, of a raspberry lipstick that ingeniously give this perfume its modern sensibility.