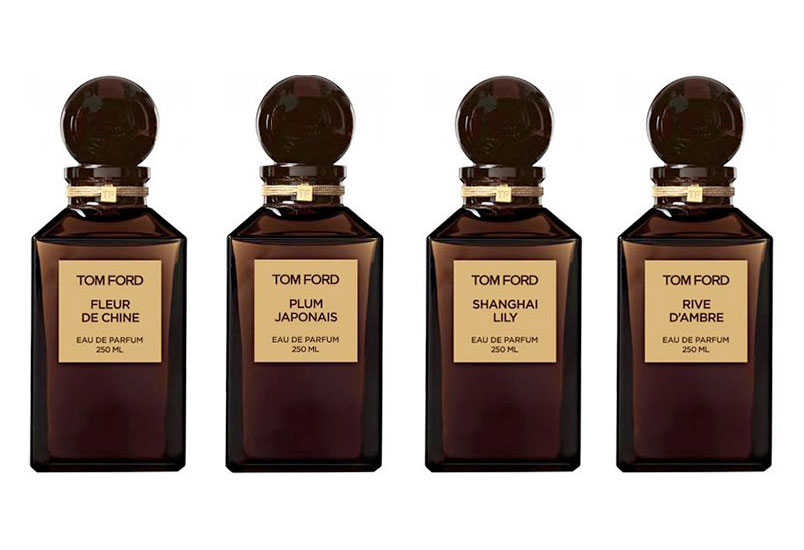 Tom Ford is launching a new fragrance collection for the Spring 2013 season called Atelier d'Orient,which is part of the Private Blend range. The collection features four new scents— Shanghai Lily, Plum Japonais, Fleur de Chine and Rive d'Ambre. The fragrances evoke an exotic Oriental mood.
Shanghai Lily: a glamorous, elegant floral-oriental fragrance that recalls the rare and opulent ingredients once transported on the historic Silk Route. Shanghai Lily tempts with warm spices, floral notes, vanilla and frankincense.
Plum Japonais: beautiful ume plum is contrasted by an unusual blend of exotic asian ingredients, making Plum Japonais an irresitible and complex fragrance
Fleur de Chine: the precious bouquet of Fleur de Chine combines Asian flowers such as hualan and star magnolia for a seductive and haunting floral fragrance with a nod to the classic scents of years past.
Rive d'Ambre: Tom Ford's newest take on the classic eau de cologne, Rive d'Ambre seduces with citrus fruits atop a warm amber base.
The fragrances are available as 50 ml or 250 ml Eau de Parfum, packaged in the traditional shaped flacons of the Private Blend line.