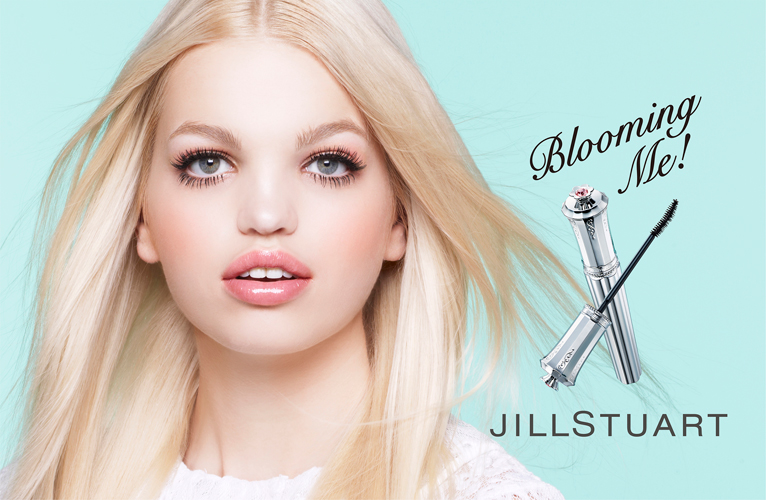 Jill Stuart is launching its Summer 2013 Skip Over the Rainbow Collection at the end of April 2013. The collection features the new Blooming Blossom Curl Rush Mascara,  Jelly Blush,  Jelly Eye Color  and , Jelly Lip Gloss and Nail Lacquers in cool limited edition pastel shades.
"The sun shines through the clouds, and a bridge in seven-colors appears across the sky. The end of the rain is followed by a warm, moist breeze, the flowers accepting its refreshing blessing, still glittering with lingering droplets as they turn and smile toward the sun. Everything seems brand new, as though it has just been born, and it feels like the start of a whole new world. As your heart begins to sour, there's no way you can just sit still.
Girls spirits are lifted by a palette of translucent colors, the very embodiment of the pure atmosphere of summer. Treat your eyelids and cheeks to a harmony of moisturizing pop colors and dazzling sparkle.
Once you have the rainbow of happiness on your side, you'll feel ready to walk wherever your legs desire. Dash out into a refreshing, sparkling summer."
The face of the campaign is model Daphne Groeneveld.
 Jill Stuart Blooming Blossom Curl Rush Mascara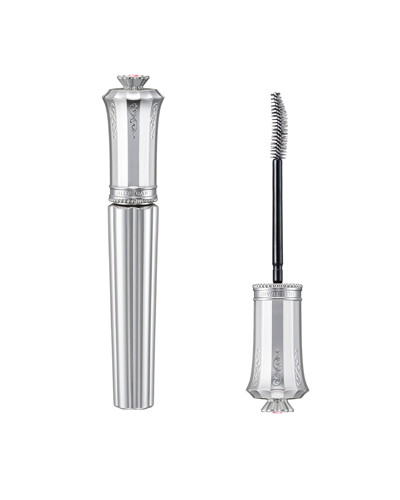 01 pure black – A real black, with depth and gloss
Product features
Brings curl-keeping power to your eyelashes, lifting them like a blossoming flower. The airy feather formulation provides a super light covering, giving a beautiful finish that lasts.

A formulation that includes softening wax reduces the burden placed on your eyelashes, creating a smooth and uniform covering.

Formulated from a base that is highly resistant to lipids and water, maintaining curl without being affected by sweat.

A film type that can easily be removed using just warm water.

Also contains pearl extract, gentle on your eyelashes. Brings you healthy and smooth lashes.

Pure black color, distinct and deep.

The frilly bottle is designed to evoke a larger blossoming flower. The center of the flower on the cap is set with a pink Swarovski.

Fragrance of crystal floral bouquet.
 Jill Stuart Jelly Blush 6g  5 limited edition colors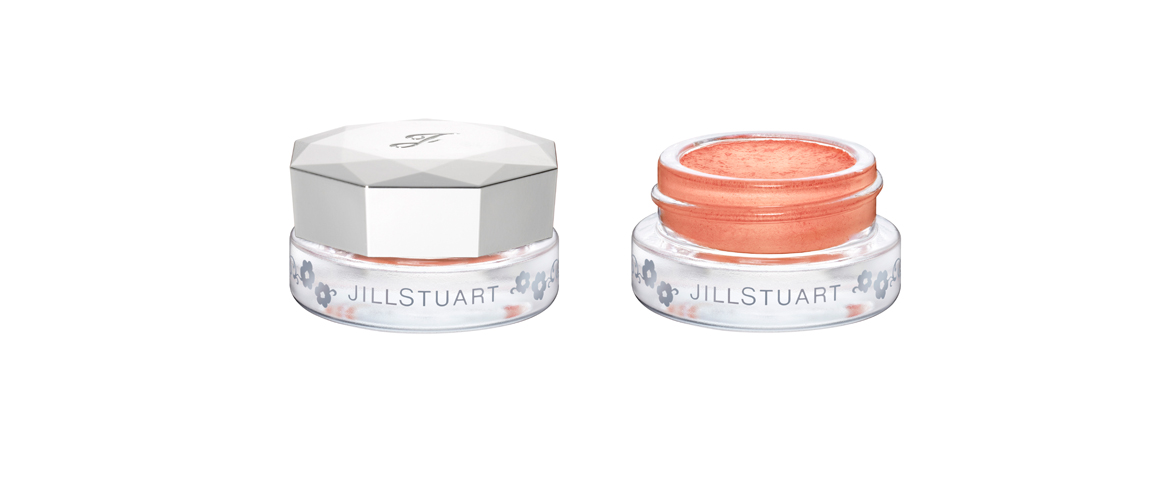 01 lacy petal – A fragile, milky pink, as though fresh flower petals have been piled together (Silver pearl nuance)

02 floral rondo – A milky coral, like a blizzard of charming flowers (Gold, silver pearl nuance)

03 swinging chorus – A milky orange, like cheerfully singing flowers (Red, gold pearl nuance) * Main color

04 with a whistle – A juicy rose pink, like a translucent bead of dew (Silver pearl nuance)

05 let vibrate – A juicy red, packed with the vibrating energy of singing voices (Red, gold pearl nuance)
Product features
A fresh jelly type cheek color that's moist to the touch. Spreads comfortably, coolly across your skin, for a close and perfect finish.

Petal colors that blend beautifully into your skin. Brings you refreshing moisture while also providing a translucent luster and gorgeous, popping color, culminating in a soft and sweet blush finish.

Keeps that beautiful, just-applied color and moisture for a long time.

A thin and uniform layer closely covers your skin, keeping the makeup in place.

The design has a refreshing, translucent finish and a flower petal theme. A silver flower motif is printed on the side.

Fragrance of crystal floral bouquet.
Jill Stuart Jelly Eye Color 3 new colors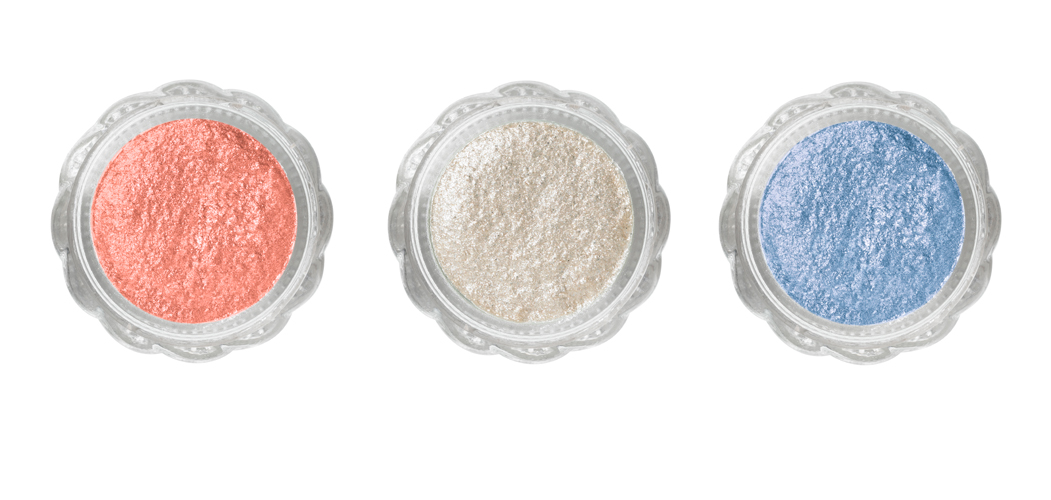 19 passion fruit – A peach coral evocative of juicy passion fruit (Red, gold pearl nuance) * Main color

20 coconut mint – A brilliant mint, mixing refreshing green with coconut white (Silver pearl and cold color laminate nuance)

21 soda pop – A light blue, themed around the refreshment of soda (Blue, silver pearl nuance)
Product features
Eye color that's like fresh, springy jelly. New colors evoke a summer's day after the rain has ended and the sun breaks through the clouds.

Brings you a highly translucent sparkle and clear, popping color.

Provides perfect, close coverage on your eyelids, giving a long lasting just-applied beauty and feeling of moisture.

Pure crystal powder formulation.

Fragrance of crystal floral bouquet.
Jill Stuart Jelly Lip Gloss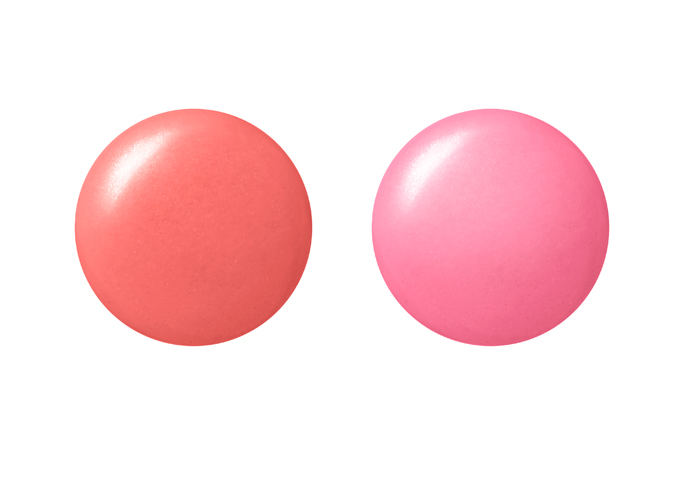 31 weekend stroll – An uplifting apricot orange (Gold, silver, orange pearl nuance) * Main color

32 andante cantabile – A clear pink with a fresh feeling of translucency (a sheer blue-pink with the faintest sparkle of pearls)
 Product features
Spreads meltingly lightly, smoothly, giving perfect coverage. Lip gloss that brings you voluptuous, full lips.

Light and natural new colors evoke summer after the rain has ended, the clouds gone and the sun shining out.

A close and lustrous layer provides a long lasting, just-applied, wonderfully smooth finish.

The tube is cut at an angle for easy direct application onto your lips.

Pure crystal powder formulation.

Fragrance of crystal floral bouquet.
Nail Lacquer R
Red Lotus – silver pearl
Pink Roses – red silver pearlescent
Mint Green – green pearl
Avision – pearlescent
Pastel Diaphana – pearlescent