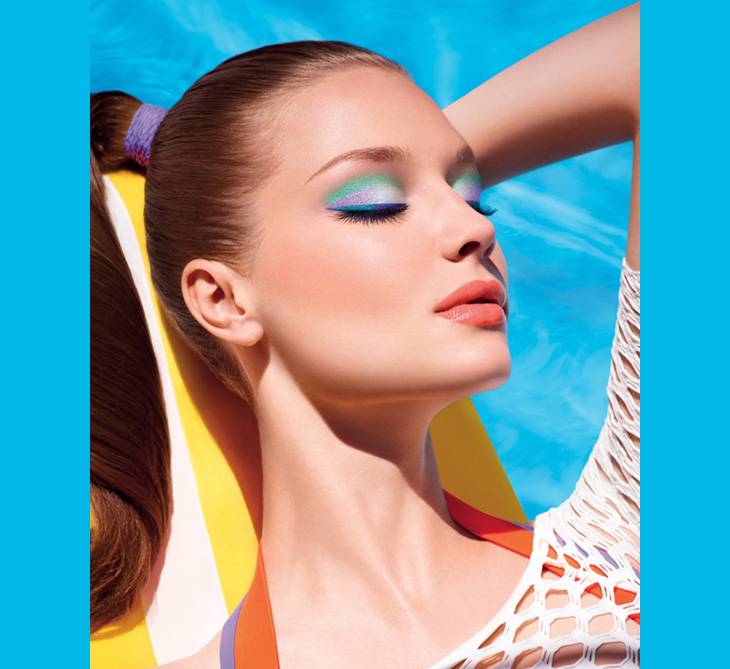 Make Up For Ever
 has rolled out their 
Summer 2013 Aqua Collection
 which features bright, bold, long-lasting and smudge-proof shades for eyes and lips.
Highly pigmented and smudge-proof, MAKE UP FOR EVER's Aqua Collection was originally created for the Parisian water ballet. These high performance, long lasting products withstand the most extreme conditions while staying completely waterproof, crease-proof, and fade-proof.
Aqua Rouge 
A liquid lip color that provides the intense and long-lasting hold of a lip stain with the eye-catching shine of a gloss. Formulated with a combination of high molecular weight polymers and volatile oils, Aqua Rouge locks color on the lips for a smudge-proof result that will not transfer or fade. Its intensely pigmented formula provides immediate, opaque color with extreme shine, and its creamy, non-sticky texture glides effortlessly on the lips for comfortable wear.
#19 Pomegranate Pink 
#16 Fuchsia
#20 Baby Pink
#17 Bright Coral
#18 Coral
Aqua Lip 
A waterproof, extremely long-wearing lip liner. Gliding on with vitamin E and jojoba wax, it makes the application easier and more comfortable on the lips.
#19C Pomegranate Pink – berry pink
#20C Baby Pink – bright baby pink
Aqua Cream – Limited Edition 
An ultrapigmented, long-lasting waterproof cream. Aqua Cream combines the highest-quality pigments with mother of pearl particles to give immediate rich color payoff with a luminous finish in just one application. Its long-lasting formulation will not crease or smudge under the most extreme conditions and its creamy and elastic texture allows for easy blending.
#52 Pearly Green Lagoon – blue green shimmer
#53 Pearly Light Lagoon Green – pale green shimmer
#54 Pearly Mauve –  lilac shimmer
Aqua Eyes 
An award-winning, waterproof, smudge- and fade-resistant eyeliner that doubles as a vibrant eye shadow. This bestselling eyeliner has become a favorite among women who fear raccoon eyes. Formulated to glide on effortlessly and withstand the most extreme conditions, it stays put on eyelids without melting for precise application and intense color throughout the day.
#25L Matte Brown – dark chocolate brown
#52L Lagoon Green – blue green sheen
Aqua Black 
A creamy, waterproof eye shadow. Make Up For Ever Aqua Black Waterproof Cream Eye Shadow contains a creamy, long-lasting formula that makes it easy to create the perfect smoky eye. Its rich black pigment creates the ultimate defining line and its creamy texture creates a sultry, smudgy effect.
Aqua Black Waterproof Cream Eye Shadow
Aqua Seal 
A liquid converter that transforms powder formulas and pencils into smudge-proof, long lasting makeup. Aqua Seal instantly converts your favorite makeup products into waterproof formulas. Its lightweight, liquid texture intensifies pigments and shimmer for a dramatic, long lasting result.