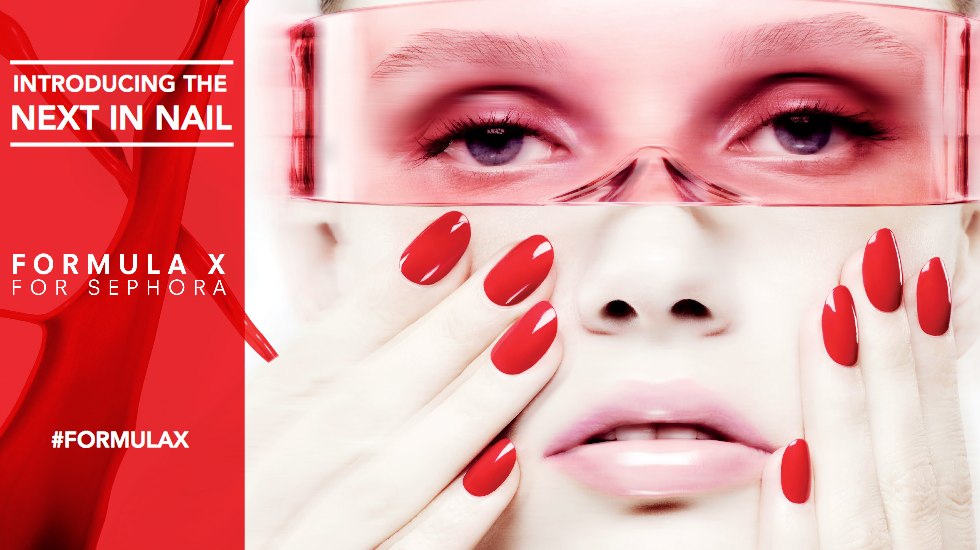 Sephora has introduced Formula X – a new nail polish collection, which promises a high-shine, long-lasting finish in an outstanding array of shades, textures and decorations. The Collection includes The System ($32 USD / $39 CAD), which includes the Nail Cleanser, Base Coat, Top Coat and one Formula X color of your choice.
The Colors ($10.50 USD / $13 CAD)
62 New Classics: Bold, brilliant signature favorites
31 New Neutrals: Elegant, brilliant shades for a new generation of neutrals.
The Effects ($10.50 USD / $13 CAD TO $12.50 USD / $15 CAD)
5 Brilliants: Multi-glitter shades
5 Sparklers: Metallic glitter shades
12 Celestials: Luxe glitter with lustrous metallic textures
5 Superwatts: Vibrant macro-glitter in sheer jelly colour
5 Chromes: Liquid-metal effects
5 Translucents: Sheer, shiny washes of colour
5 Holograms: Rainbow-reflecting, multi-dimensional 3D color-shifting lacquers
12 Transformers: Illusionary topcoats that layer over and transform a nail color
12 Lustres: Full-coverage glitter
14 Xplosives: Graffiti nail art with confetti glitter splatter top coats
5 Shifters: Crushed micro-sparkles in metallic, duochrome shimmers
12 Electrics: Shocking neon pearl and bright matte shades
The collection also includes  nail polish remover, strengthener, drying spray, drying drops, ridge filler, cuticle oil, nail hydrator and cuticle cream.