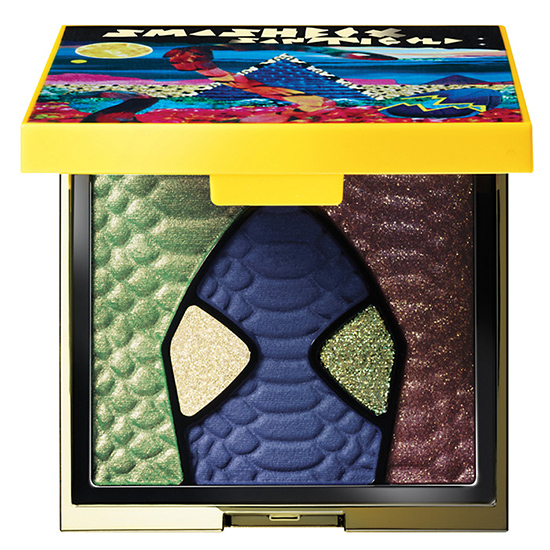 For this exclusive collection, Santigold plays with the notion of approaching the post-2012 Golden Age – an age where the earth as we know it ceases to exist, revitalizing itself and morphing into its own beautifully balanced, utopic mirror image. This is a world where the earth, stars, humans, aliens and all co-exist harmoniously.
She's partnered with Smashbox to create this vivid and playful color range, influenced by her strong creative sense. Already known for her mix-and-match sensibility, Santi is encouraging her collage style with this collection. From the themed, shade names to the one-of-a-kind ring design, she's blended her style, hand-crafted artwork, fashion sense and love of color to create this exciting summer line.
Eyeshadow Collage ($36.00) (Limited Edition)
Earth As We Know It Kelly green, soft sparkling cream, dark matte blue, dark sparkly forest green, raisin with rosegold pearl
Apocalypse Now Shimmery teal, sparkling pewter, matte black, shimmery oyster, bright golden orange
Be Legendary Lip Gloss ($20.00) (Limited Edition)
All Gold E'rything Sheer copper sparkle
Hot Lava Orange red
Be Legendary Lipstick Ring ($49.00) (Limited Edition)
A Smashbox first! This collectible snake-pyramid ring is adorned with Swarovski crystals and has a limited-edition shade of Be Legendary Lipstick hidden inside.
Still Kickin' Soft golden coral
Double-Ended Limitless Eyeliner ($24.00) (Limited Edition)
Azurite Is Never Wrong/El Dorado Bbright blue/soft gold
Yellow Dwarf/Green Martian Bright yellow/mint green
Nail Polish Art Strips ($49.00) (Limited Edition)
You'll have the world at your fingertips with these exclusive, mistake-proof nail strips. Designed by Santigold and @TroubleAndrew
Serpent Charmer
Eye of the Beholder