When it comes to beauty products, it's important not to sacrifice quality for a cheap price. Inexpensive products can often do more harm than good. For instance a cheap hair dye could turn your tresses the wrong color. A bargain basement moisturiser could cause you to break out. Or, an inexperienced beautician could completely ruin your look. However, not everyone has an unlimited beauty budget. If you fall into that category, you'll need to read on. It's vital that you strike the perfect balance between a reasonable price and successful results. Below are four beauty alternatives on a budget.
Teeth Whitening
You may cringe at the idea of purchasing a cheap tooth whitening kit. This is a reasonable reaction, as it's definitely a bad idea to introduce questionable chemicals into your mouth. Luckily, Mother Nature has provided a suitable, and affordable, solution. Coconut oil pulling is a fantastic way to whiten your teeth on a budget. Instead of paying for an expensive kit, or the services of a trained professional, you'll be able to whiten your teeth with ease. All you need to do is swill the oil around your mouth for at least ten minutes a day. This is actually much better for you than an unnatural process. Coconut oil pulling strengthens your immune system, cleans your teeth, and freshens your breath.
Exfoliating Your Skin
If you're looking to exfoliate your skin, why not visit your local beach? The sand will provide you with a free manicure and pedicure. The salty sea water will take care of your skin and help to give you a healthy glow. You'll need to be careful about being in the sun for too long. However, a small amount of exposure can actually help to clear up any acne, and add a gentle warmth to your complexion.
Buying your beauty products
When purchasing your beauty products, it's important to shop around to secure the best deal. Have you tried visiting websites that sell discounted beauty products? This is a great way to ensure that your money goes further. If you find a great deal, stock up for the future. You'll obviously need to make sure that the products are still in date, but fortunately most beauty products have a long shelf life. This will give you the opportunity to make the most of the deals available.
Girls, when it comes to your men especially if they are sporting a bearded look make sure they do know how to choose the best beard comb – reviewed by Beardoholic.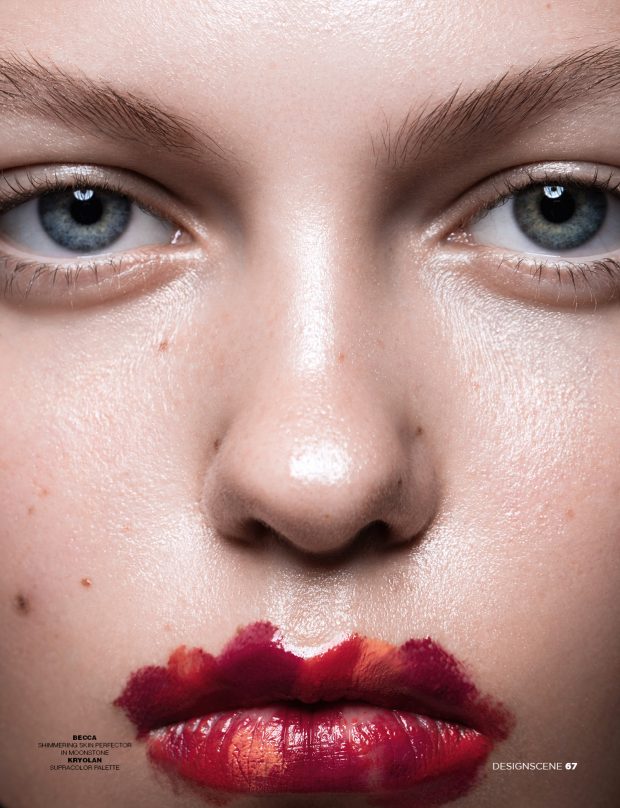 Find Solutions Independently
Instead of paying for expensive procedures, you should try to tackle your insecurities independently. Whatever beauty problem you have, there will be a solution out there. For instance, if you struggle with eye bags, why not try remescar eye bags treatment? This will allow you to save the money that you would have spent on a spa day, and find a solution in the comfort of your own home. Visit blogs, medical websites, and chatrooms to find your answers. Often spas and salons will mark up the prices of their products and treatments. Make sure that you don't fall into their trap. Instead, take control of your beauty regime.
All images from DESIGN SCENE magazine issue 018 beautifully photographed by fashion and beauty photographer Lyubov Pogorela. In charge of the striking makeup was Makeup Artist Lyuda Agakhanova using Becca Shimmering Skin Perfector in Moonstone, Makeup For Ever 12 Flash Color Case, Kryolan Supracolor Palette. The gorgeous model is Alina from PR Models. See the full story (out now in print and digital) on our DESIGN SCENE magazine's online pages.