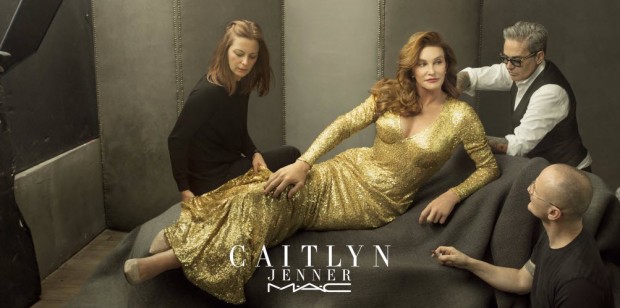 It was hard not to predict Caitlyn Jenner booking a campaign, nevertheless she's the new face of  MAC Cosmetics launching a lipstick on her own. Taking the spotlight from her daughters, here are 5 things Caitlyn wants you to know bout her collaboration with MAC.
#01 Why did she name her signature lip colour (now available at MAC) Finally Free?
I wanted a name that I use, and which represents the community. This is who I am: Finally Free.
#02 How did she choose the colour?
I wanted a lipstick that would be universal, suited to more people, and was an everyday lipstick, not just a high-glam, once-in-a-while kind of lipstick. I like a little colour on my lips, not a lot during the day. And this rosy nude is the colour I've gone to. To be honest, I want people to use it every day so they have to buy more. I want to raise a lot of money. It's very simple.
#03 Why did she decide to give away %100 of the proceeds from Finally free to the M•A•C AIDS Fund Transgender Initiative?
There are still far too many countries where if you're anywhere in the L, the G, the B or the T spectrum, it's a criminal offense. You can go to jail for being anywhere in there. You can get decapitated. Take Russia. In Russia, if you are anywhere in the L, the G, the B or the T, you are considered to have a mental illness. And people with mental illnesses cannot get driver's licenses. This happens in our world today. M•A•C has a global reach. We can start here, but I would also like to take it on a worldwide basis – the big picture. For right now we need to figure out trans issues and get some help here, but on a global scale, it's women's issues.
#04 What advice did she get from Kim before taking on this project?
Kim has been great at giving me advice, just by saying, "Ok, if you're going to do this, you've got to rock it. You cannot go out the door unless you're put together. I'll do whatever I can to help you, but you've got to take it seriously because, if you get that one bad photo, they're going to use it forever. So don't give them that ammunition." And I've had that, boy have I had that.
#05 And what about that 'man in a dress comment'?
For me, the beauty side of it was important from the beginning: to try to do fashion right, to try to do beauty right. I worked on it all my life, but nobody knew it. I made a statement where I said if I was going through this, I didn't want to look — me, personally — like a man in a dress. I wanted to do it with style, with grace. Looking good was important to me. Well, I got in all kinds of trouble with the community because they said, "Well, what about all the people who don't care about that or don't have the resources to do that?" I'm talking about in my case. I grew up in a family where, with the girls, presentation was very important to them, too. I have been around a long time, and I told my kids as they were growing up that the way they act, the way they dress, the way they speak — if you want to get ahead in life, it's important. I know that for some people in the trans community it is not that important, but for the majority it is.
Caitlyn reunited with fashion and celebrity photographer Annie Leibovitz for the MAC campaign shoot, pictured above.