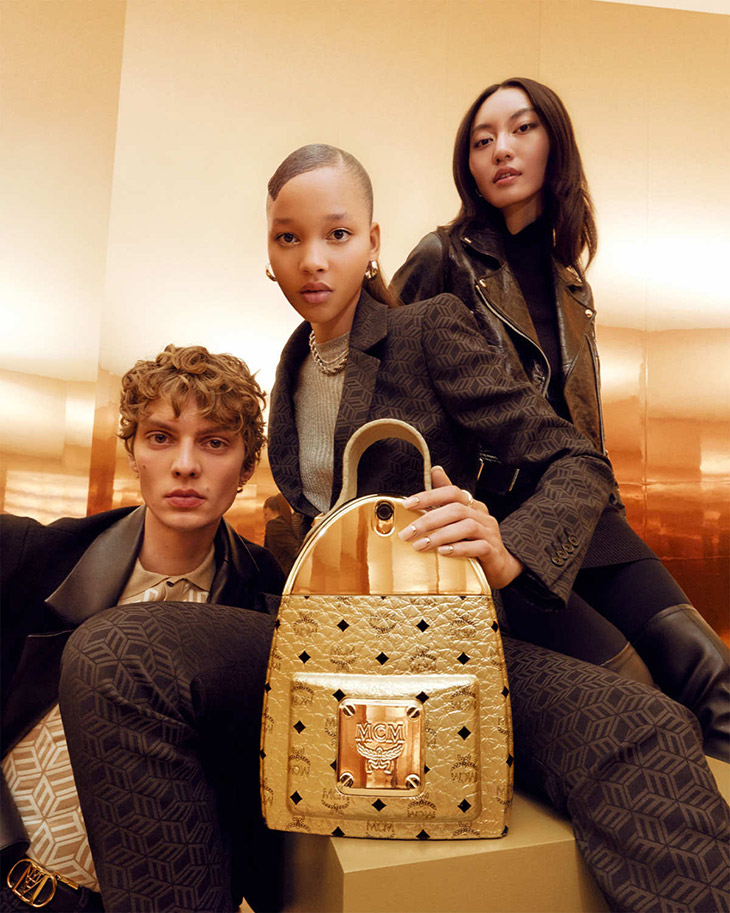 German luxury fashion house MCM presented their new fragrance MCM ULTRA Eau de Parfum for women created by renowned perfumer Frank Voelkl, that celebrates positive attitude and the confidence to live freely and creatively. The contemporary fragrance invites all women to embrace their own individuality and journey, encouraging the belief that anything is possible. Inspired by the brand's iconic backpack in eye-catching Berlin Gold, ULTRA features a bold scent profile and showstopping glossy packaging. Fashion photographer Dan Beleiu captured the campaign starring models Sculy Mejia Escoboda, Ga Young Ko, and Leon Dame. In charge of styling was Raphael Hirsch, with beauty from hair stylist Virginie de Pinto Moreira, makeup artist Vassillis Theotokis, and manicurist Rachel Foreman.
Lush Jasmine and Tuberose florals are contrasted with fougere elements, like Tonka and Moss, weaved together with the intention of delicate balance to create an unapologetic, full-of-attitude feminine signature – Frank Voelkl
Creating a scent really excites me. It is a completely different approach to a fashion collection but the spirit has to align. With ULTRA I wanted to capture the glamour, the passion and the strength of the 21st century global woman. After our first unisex scent, this is the ultimate celebration of modern femininity – Dirk Schönberger, Global Brand Officer, MCM Worldwide.
After the success of MCM Eau de Parfum, we aimed to keep up momentum with the first-ever fragrance flanker for the brand, MCM ULTRA. The strong partnership between Interparfums and MCM continues to open new horizons and push boundaries to create a new definition of fragrance storytelling for the industry. – Jean Madar, Chairman and CEO, Inter Parfums, Inc.
"ULTRA opens with a burst of juicy Blackcurrant. Lush Pink Lady Apple and natural Italian Bergamot combine together with the spicy-sweet rush of Pink Pepper. Tuberose and Jasmine add a creamy youthful floralcy. At the heart, Cedarwood, Tonka and Moss fuse together to create an ultramodern signature layered with addictive golden Amber." – from MCM
Priced: 75mL EDP: $115 / 50mL EDP: $90 / 30mL EDP: $75.
MCM ULTRA is available in MCM boutiques and on mcmworldwide.com, with a global launch planned for August 2022.