Guerlain introduces new limited editions of their popular fragrances: Le Parfum du 68, La Petite Robe Noire, Eau de Cologne Imperiale, Vol de Nuit and Shalimar to the  luxurious Les Pieces d'Exception collection.
Le Parfum du 68 Extrait Le Passeur du Temps is launched to celebrate the reopening of the Guerlain boutique at that particular address. Guerlain reinterprets an old flacon in the shape of turtle thanks to the restoration of a 100-year-old mold. The bottle is made ​​of black Baccarat crystal containing 1 l of the fragrance, placed under a glass bell which shows a panorama of Paris done in gold. Thierry Wasser created this perfume extract as a spicy-woody fragrance that plays with contrasts of hot and cold. It begins with spices, with the floral heart that pulsates with immortelle, while hiding the base notes of tonka bean, benzoin and incense.
La Petite Robe Noire Flacon Baccarat et Dentelle d'Argent comes in the iconic Guelrain Baccarat bottle with a stopper in the form of an inverted heart, this time designed and decorated by artist Sara Bran. This classic crystal bottle is enriched with ornaments of molten silver. The composition contains patchouli, black tea and cherry, Guerlinade accord, iris, vanilla, tonka and almond. The fragrance is available in only 21 pieces as perfume extract of 100 ml.
Eau de Cologne Imperiale Edition 160 Anniversaire celebrates the160th anniversary of the fragrance developed by Pierre-François-Pascal Guerlain ​​for the Empress Eugénie, wife of Napoleon III, after which he received the title Parfumeur Breveté de Sa Majesté. In this new, exclusive edition, the ancient tradition of decorating is revived—"marqueterie de paille." The bottle was designed by Lison de Caunes. The famous fragrance blends citrus top notes of lemon, bergamot and petitgrain with the heart of neroli and the base of tonka bean, rosemary and cedar. It is available in a 1 l flacon.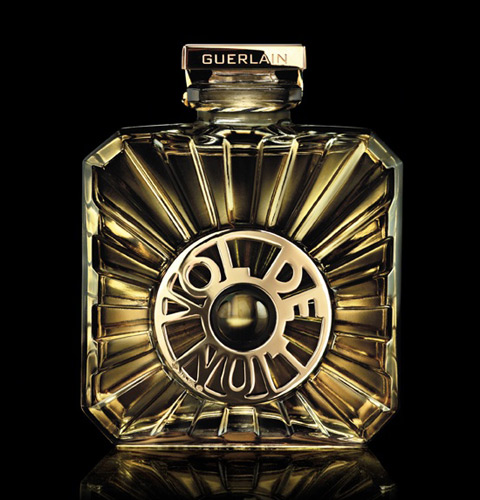 Vol de Nuit 80 Anniversaire celebrates the 80th birthday of the perfume and in that honor revives a vintage art design of this house. The logo in the middle of the bottle, as well as the cap, is made of gold. Vol de Nuit is a layered composition, rare, enigmatic and bold. It starts with galbanum and citruses leading to the heart of daffodils, violet, carnation, jasmine and rose and the base ​​of moss, musk, sandalwood and iris root. It is available in bottles of 65 ml.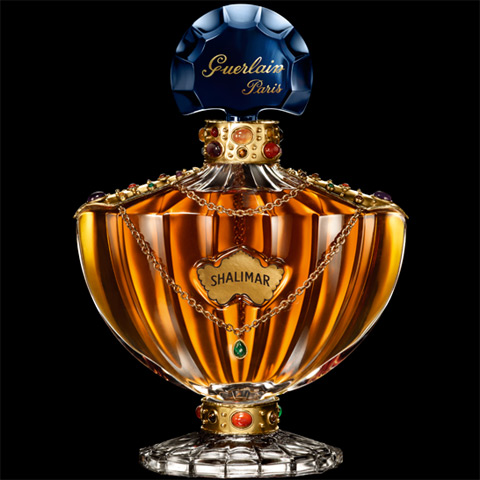 The Shalimar Indes & Merveilles bottle was created by Sylvia Toledano , a Parisian jewelry designer, in only 48 pieces. This fragrance is presented for a special occasion—the launch of the movie "La Légende de Shalimar ". The bottle is decorated by 24-karat gold and semi-precious stones such as amethyst, quartz, carnelian, lazuli, tiger eye and malachite. The composition offers aromas of citruses and flowers, vanilla, tonka bean and oppoponax. It is available in bottles of 1.5 l of perfume extract
 Source: Fragrantica