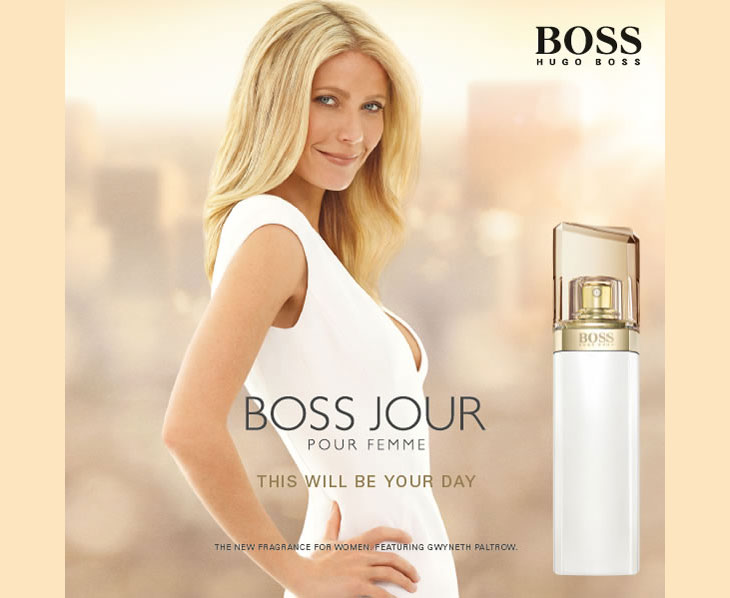 Hugo Boss is launching a new fragrance for women in Spring 2013 – Boss Jour Pour Femme. The Face of the campaign is once again actress Gwyneth Paltrow.
The new fragrance was created to show three faces of a woman: inspiration, composure and ease described with a beautiful blend of white flowers chilled with sparkling citrus. Lightness and freshness are presented with a combination of accented accords of lime and grapefruit blossom representing the liveliness of the first morning rays of light that radiate with positive anticipation. Inspiration is retold with a rich bouquet of white flowers, including flowers of freesia, lily of the valley and honeysuckle celebrating the femininity and beautiful diversity of life of every woman. Composure is described with a more powerful, masculine finish which includes accords of white birch and creamy amber.
The three facets reflected by the new fragrance:
The Light Facet
"The succulent citrus freshness of grapefruit flower and lime emulates the vibrancy of the first rays of light, radiating a positive sense of anticipation."
The Inspiring Facet
"An exquisite bouquet of white flowers, with freesia and lily of the valley, lies within the heart of this fragrance, to celebrate femininity and the beautiful variety in every woman's life. The addition of honeysuckle, known for needing bright lights for its flowering tips, represents the Boss woman reaching to pursue all the possibilities the day may bring."
The Composed Facet
"A richer, muskier finish – with earthy notes of white birch and creamy amber – ensures a feeling of softness and mirrors the unique feminine strength and ability to always approach the day and its possibilities with elegant composure."
The Flacon
"Slim, sleek, and beautifully structured, the elegant and sophisticated Boss Jour Pour Femme flacon has been designed to perfectly reflect the perfume. Stylish and light, the bottle is finished off with an elegant crystal cap that brilliantly reflects the light, in turn creating an effect reminiscent of the first light of day. Like every modern woman's "signature" piece of jewellery or accessory – an item that instantly identifies that look as "hers" – a golden band adorns the flacon, an elegant golden halo that has the power to become truly captivating as it catches the light."
The fragrance  comes as a 50 and 75 ml Eau de Parfum, accompanied by perfumed body care lotion and perfumed shower gel 200 ml.