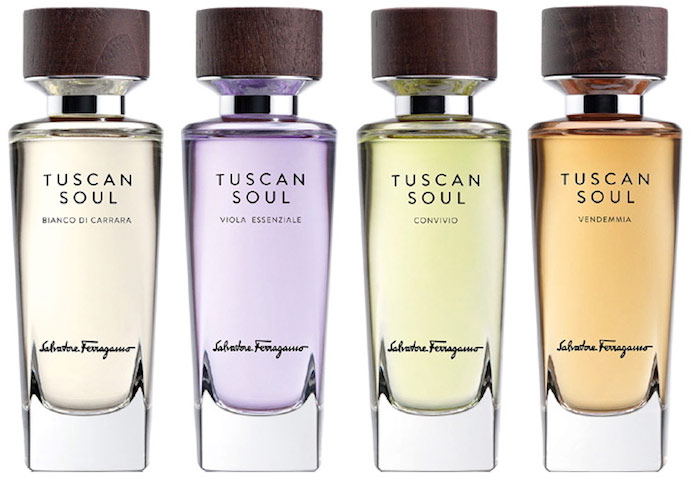 Salvatore Ferragamo launches a new exclusive collection of perfumes named Tuscan Soul Quintessential Collection, which is dedicated to the natural and cultural treasures of the region.
"Tuscany, with its beauties and traditions, has always been a source of creativity and vision for Salvatore Ferragamo. The place where his dreams became true. This great Tuscan Eden inspired the creation of a luxury perfume anthology. A Fragrance Collection with a creative and selective olfactive proposal … Tuscan Soul Quintessential Collection is a fascinating journey within the beauties and traditions of the Tuscan Land."
The Tuscan Soul Quintessential Collection includes four scents : Bianco di Carrara –"a beautiful scent inspired by the most precious natural stone from Tuscany." with fresh and spicy notes of neroli and white pepper , Viola Essenziale represents a tribute to Florence's most famous flower—iris, which was admired by Caterina de Medici. It contains fruity lychee and neroli in the top, Florentine iris absolut and orange blossom in the heart, and patchouli and musk at the base.  Convivio celebrates the legacy of Tuscany. Top notes are grapefruit and carrot seed. Cypress and jasmine petals meet in the heart of the composition that closes with an accord of ambroxan and cashmere. and The fourth fragrance of the line is Vendemmia dedicated to the traditional harvest of grapes. Mediterranean fruit and vineyard peach are at the top. Fig leaf and jasmine are layered in the heart, laid on the sensual base of sandalwood and tonka bean. The fragrances are created by perfumers Fabrice Pellegrin, Lucas Sieuzac and Sonia Constant.
The fragrances are available as 75 ml Eau de Toilette .