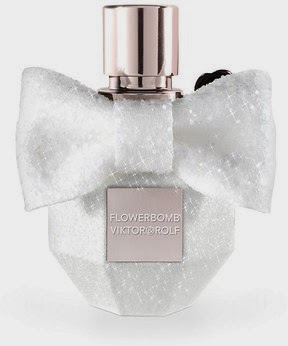 Viktor & Rolf  will launch a new couture collector's edition of their Flowerbomb fragrance for Christmas 2013 in a limited edition sparkling crystal bottle.
A floral boom, Flowerbomb Crystal Edition 2013 presents an abundance of flowers that has the vitality in making all things appearing more optimistic. Magically reminiscent notes will instantly wake up your deepest feelings, allowing you to dream of living life in your unique magic landscaping separate from actuality. With tranquil shimmering starting notes of tea and bergamot, center notes of jasmine with a trace of orange woods, orchid, freesia and Centifolia rose and a woody base of Patchouli. Easily spray over your body and Flowerbomb's miraculously powerful scent will bring to life the fullest feelings, giving anyone who wears it the impression of living life in their secret winter landscape, a environment in our secret fantasy. 
Flowerbomb Crystal Edition 2013 is offered in Viktor and Rolf's popular perfume container initially developed by Fabien Baron, in the shape of a diamond faceted hand bomb, suggesting the power of the fragrance itself, because it is so intense, sophisticated and attractive. This seasons amazing outburst of dazzling flowers comes out in the renowned bottle outfitted for this limited edition seasonal release in a wonderful snow like glistening fabric encrusted in tiny sparkles resulting in a wonderful presentation.
Flowerbomb Christmas 2013 Edition will be a vailable as 50 ml Eau de Parfum.