Christmas preparations can be challenging. With packed schedules, unexpected family visits, and last-minute gift shopping, it can feel as though there is never enough time to accomplish everything.
As the winter months approach, your home's appearance and ambiance must also gear up for the season. To help you organize your preparations, here are some simple ways to prepare your room for the holidays:
1. Add Natural Elements To Your Decorations
If the winter weather keeps you indoors, incorporate some of these nature-inspired décor ideas to bring a little touch of the outdoors inside. Incorporate wood accents, furniture, and plants into your décor to evoke the calming sense of being outside.
For accents, incorporate natural textures such as rattan, leather, aged metals, and linen fabrics. Using greenery, like what you can get from Fresh Wreaths, or even Christmas trees can make your home look more holiday-ready.
2. Bring Out Candles
Candles are whimsical and romantic, and they also contribute to creating a friendly, warm environment. And now is the time to stock up on fresh tea lights and holiday-scented candles for your home's decoration. A small candle can significantly affect the environment it illuminates, from the fireplace to the dining room table.
3. Change Your Window Treatments
Consider replacing your sheer linen curtains with velvet drapes or any other heavier type of curtain with a thermal lining. They add warmth by acting as an insulator, preventing cold air from entering through old windows at night. This is a great way to make sure your home stays cozy during the holidays.
4. Add A Tea Station
A steaming cup of tea will lift your spirits and keep you warm when the weather cools! Additionally, brewing tea should be simple. Create a tea station in your dining room or living room so you, your family, and guests can enjoy a warm cup anytime. You can even have a tea party for the holidays. A few fancy mugs, an electric kettle, and a selection of your favorite herbal teas can also help create a cozy atmosphere of holiday cheer.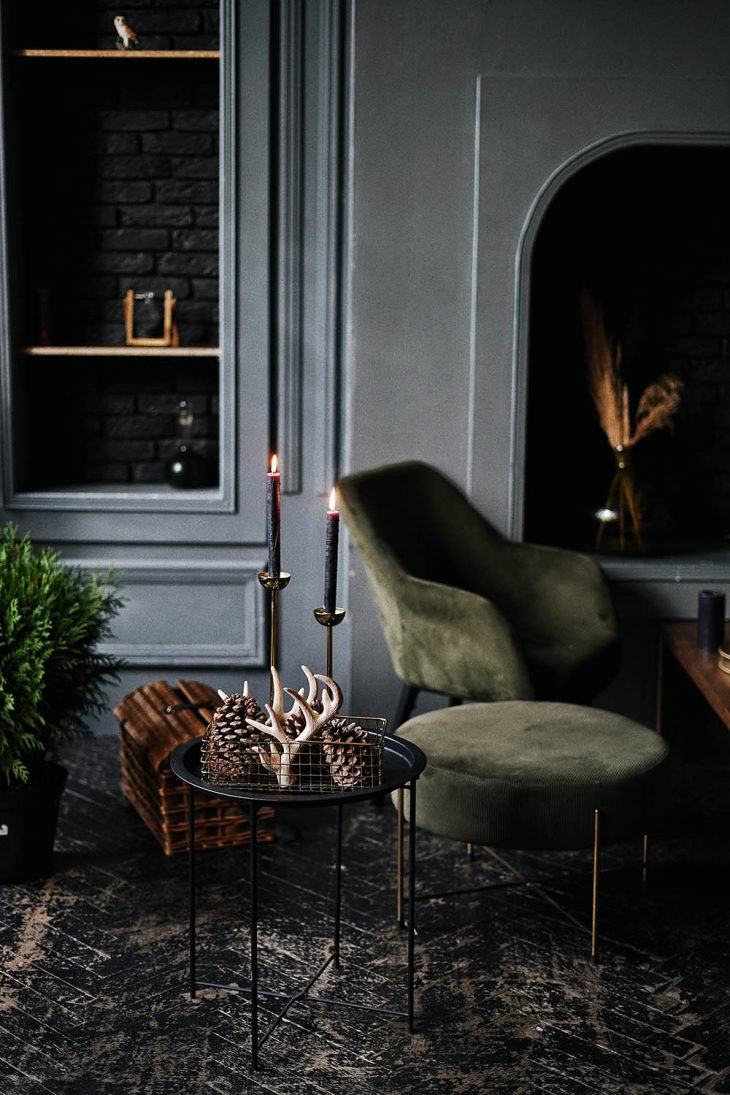 5. Use Books As Decorations
Arrange your favorite Christmas storybooks on the coffee table, beside the television, or in the bay window seat. It's enjoyable, amusing, and adds variation to an otherwise dull area. Additionally, these books can entertain your guests and visiting family members during the holidays.
6. Utilize Festive Textiles
Winter is an ideal season to display one-of-a-kind needlework and quilts. So, wrap one around the back of your couch for a festive touch. And while the snow piles up on the windows outside, replace the breezy cotton drapes with thick velvet or flannels. This adds dimension and tone to the composition, as well as a sense of coziness and warmth.
Rugs, toss cushions, and bedding all contributes to the overall look of your winter décor. A thick, shaggy carpet in your bathroom can physically and artistically warm the space. In a matter of seconds, rich velvets and great comforters convert your guest suites from summer cottages to cozy and comfortable sanctuaries.
7. Consider The Lighting
Daylight savings time will soon have you bidding farewell to the sun before dinner regardless of where you reside. This, in conjunction with the colder temperature, may contribute to winter blues. To offset the gloom, use gentle, twinkling lights on both the exterior and interior of your home.
You might even have lawn ornaments like inflatables with the lights built in for a festive look. High-quality personalized inflatables are made from durable materials and feature bright, energy-efficient LED lights that will add a touch of holiday cheer to any home. Best of all, they come in a variety of popular themes, so you're sure to find the perfect one for your decorating needs. Whether you choose a traditional Santa or snowman inflatable, or something more unique like an Elf on the Shelf or gingerbread house, you can be confident that you're getting one of the best decorations that will bring holiday cheer to your home for years to come.
Instead of solid blues and greens, white—which is easier on the eyes and illuminates a room without drawing attention to itself—should be employed. When Christmas arrives, you'll be relieved to check this decorating duty off your to-do list and enjoy a month of quiet illumination.
8. Choose A Consistent Festive Color Scheme
Sticking to a certain color palette can help you create a cohesive holiday theme that will be visually appealing. If you're feeling daring, you can experiment with metallic shades this year. The golden tones will add a splash of color and a hint of elegance to your home.
If you're going for a more classic look, you can pick seasonally appropriate colors such as oranges, reds, and greens. Place a plate of apples and oranges on your kitchen island to bring these warm colors into your kitchen.
And if you're aiming for a White Christmas kind of design, you know what to do. But for contrast, it's also nice to add touches of light, pastel colors for a more whimsical touch. You can also opt for dark, rich colors like Crimson and Navy for a cozier vibe.
Takeaway
You don't want to miss out on holiday decorating tradition this year. These décor ideas will assist you in amplifying the festive spirit while also allowing you to prepare ahead of time. With the right decor, your home will indeed feel welcoming for the holiday season!