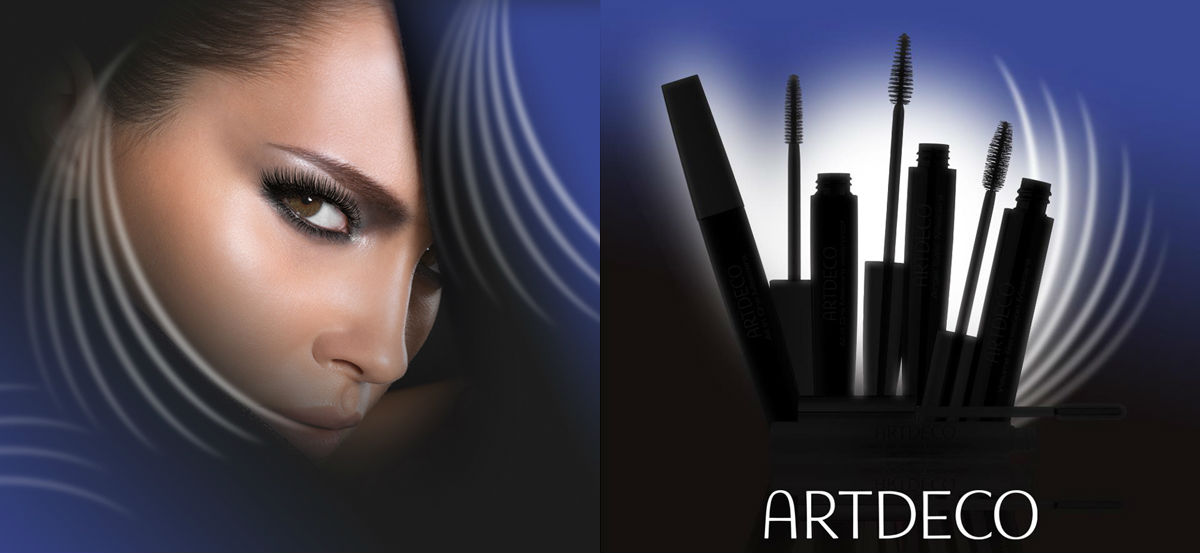 ARTDECO  launches its new Mascara Highlights Collection for the Summer season in May 2013.
Despite all myths – there is not only the one perfect mascara for our lashes but rather a perfect mascara for every kind of desired effect!
The complicated interaction between high-tech-brushes, nourishing and innovative textures on the one hand and the structure of our lashes on the other hand creates different effects and allows us to experiment. All-rounder or specialists for certain mascara-looks? The choice is yours! Depending on the desired effect, ARTDECO offers the perfect mascara. Whether naturally defined, perfectly curled, thickened, glamorous or voluminous – the mascara-look is perfect for every wish! 
All In One Mascara Waterproof 
The long-lasting and fragrance-free All in One Mascara waterproof provides perfect styling of the eyelashes. The lashes receive maximum volume, optical elongation and perfect shape. Two lash brushes in one supply your lashes with more volume and separation at the same time. A combination of natural Candelilla wax, Bee wax and Carnauba wax keep the lashes smooth, supple, soft and moisturized. The waterproof formulation will resist all kinds of weather and emotions! Suitable for sensitive eyes and contact lens wearers.
Angel Eyes Mascara 
The Angel Eyes Mascara has a specially-shaped, high-tech brush. The brush is tightly packed with several bristles of different lengths that envelopes each and every lash with mascara and combs the base of the lashes for perfect separation. The finer tip takes care of all the finer lashes, while the broader side of the brush creates volume and length on the outer corner, guaranteeing and optical "eye-opening" effect. A balanced combination of waxes nourishes the lashes and provides a "build-up" effect with multiple coats.
Volume Sensation Mascara 
The Volume Sensation Mascara has an oversized brush which delivers lots of bulk to the lashes, for a "high-heels" volume effect. Special combination of soft bristles and mascara texture accentuates the natural shape of the lashes and provides length and volume in just a few brush-strokes. Pure pigments create a very deep-black fringe of lashes for an intense effect. Carnauba wax nourishes the lashes and provides a "build-up" effect with multiple coats.
Lash Growth Activator – Night Repair Balm
External factors such as harmful environmental influences and harsh eye makeup removal can be responsible that the lashes hardly reach their maximum length. The new, innovative eyelash treatment balm strengthens the lashes effectively from the inside.
The transparent texture of the Lash Growth Activator – Night Repair Balm contains a nourishing and strengthening multi-active complex made of peptides and a natural bioenergizer which works directly on the lashes and thereby increases the lash growth up to 200% in a month*! The ingenious, extra soft applicator is ideally suited to apply the balsam from the roots to the tips. Ideal for use at night! Fragrance, lanolin and mineral oil-free.