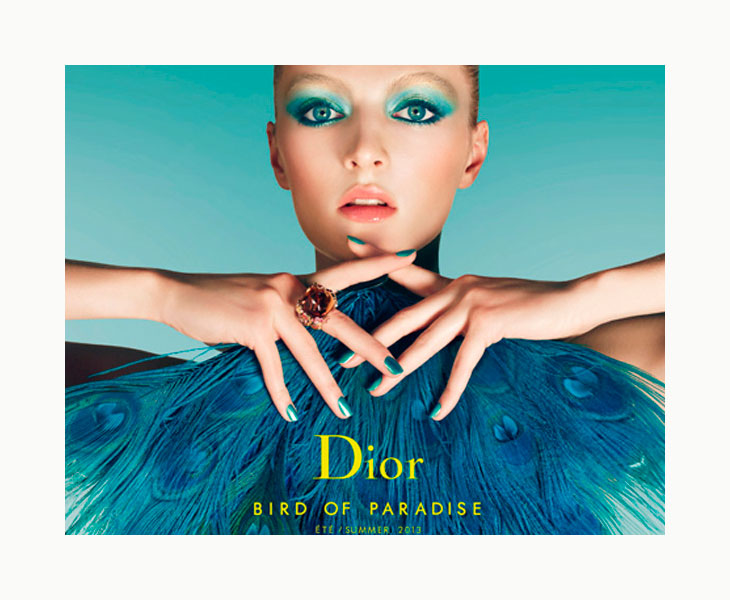 Daria Strokous is fronting the new Summer 2013 Campaign for Christian Dior cosmetics called Birds of Paradise. The Collection will consist of:
Dior 5 Couleurs Eyeshadow Palette – Limited Edition
There will be two eyeshadow palettes available, one that includes aquatic colors like a greyish blue, turquoise and light blue and the other one will feature khaki, pale pink, light green, nude and a bluish grey.
Dior Skin Nude Tan BB Creme – New & Limited Edition
Active "Tan Beautifier" ingredient prepares, beautifies and extends your natural tan. Provides a light and fresh texture for hydrated skin while corrects and illuminates the radiance of your natural tan. It will be available in two universally flattering shades.
Nude Tan Paradise Blush – New & Limited Edition
This new blush sculpts and illuminates natural summer tan. It will be available in two iridescent blushing harmonies.
Dior Jelly Lip Pen – New & Limited Edition It has a hydrating balm formula, a sheer color and shine and it will be released in 3 luscious shades.
Diorshow Liner Waterproof – Limited Edition It will be released in only one shade, a beautiful turquoise. Addict Lipstick There will be 2 shades available which seems like an intense pink and a peachy pink.
Le Vernis – Limited Edition There will be 4 colors featured in this collection, a beautiful rosy pink, turquoise, light blue green and a bluish green which seems to have a metallic finish.
Dior Summer 2013 Bird of Paradise Collection will be released in the beginning of May.