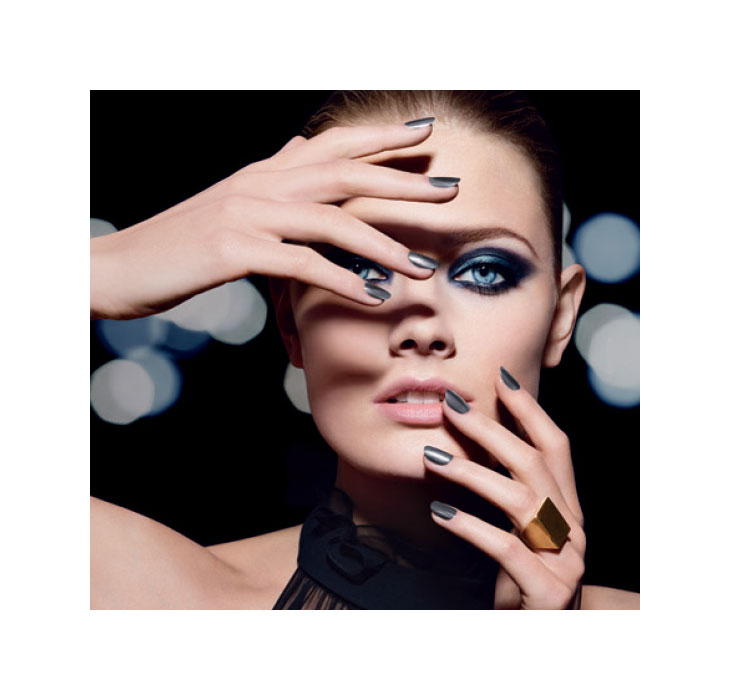 This Fall, imagine an incredible combination of the highest reflective shine and intensely desirable color to make eyes, lips and nails smolder – introducing The Metallics, a NEW Pure Color Collection from Estée Lauder. This surprisingly versatile collection of metallic finishes breaks boundaries and transforms like never before, with liquid-like shadows that saturate eyes, vinyl finishes that lacquer lips and hyper-chromatics that accessorize nails. Whether soft and pretty or bold and sexy, The Metallics uses a variety of unique reflective finishes to bring a new level of sophistication to multi-dimensional color.
Estee Lauder Pure Color Instant Intense EyeShadow Trio

Play in a new dimension of amplified color with NEW Pure Color Instant Intense EyeShadow Trios. Like molten metal, the liquid-like texture melts onto the eyelids for a high-definition chromatic color impact. A creamy, silk-like formula glides on effortlessly releasing pure, brilliant color that stays true for 10 hours without creasing or fading. The dazzling eyeshadows instantly transform from a soft powder to a silky liquid-like texture using slurry technology to give the powder a unique silk-satin feel. True Vision™ Technology – a crystalline (polymer) laminate magnifies and amplifies color for intense clarity and vibrancy, while a unique blend of optics capture light for a reflective flash of shine.
Designed to be applied dry for a refined look or wet for a high metallic finish, the NEW Pure Color Instant Intense EyeShadow Trios infuse metallic into any look for an added dimension of sophistication. Featuring three brilliant shades, each trio is a total eye look in one: base, contour, and highlight for mistake-proof application. Extremely blendable and color-true, the expertly coordinated shades look stunning on all skin tones and range from soft chrome shimmers to dramatic metallic finishes.
Available in:
Arctic Zinc – blue shades
Beach Metals – peachy & plum shades
Camo Chrome – green shades
Gilded Chocolates – gold and chocolate shades
Smoked Chrome – silver and dark greyish blue
Steel Lilacs – lilac shades
Sterling Plums – beautiful light and dark plumy shades
Estee Lauder Pure Color High Intensity Lip Lacquer

NEW Pure Color High Intensity Lip Lacquer drenches lips in an array of seductively rich lacquered hues, from sultry nudes to daring wines. Combining the creamy coverage of a lipstick and the high-shine of a gloss, this opulently pigmented lacquer creates a lusciously brilliant and glass-like finish. Estée Lauder's True Vision™ Technology provides the ultimate color payoff, while multi-functional polymers seal in moisture and form a color stay barrier to keep brilliant color and impeccable shine looking fresh, supple and vibrant for a long-lasting 6 hour wear. A new moisture-infused formula also replenishes lips for a rich, cushioned feel that radiates from within. For application, an exclusive paddle, with a bell curve design, dips in the center creating a reservoir effect to release the perfect amount of lacquer that glides onto lips with precision.
A hybrid of vividly rich color and brilliant metallic shine meet in six NEW Limited Edition Pure Color Vivid Shine Lipsticks. Exclusive True Vision™ Technology provides rich color that wraps lips in lustrous shine, while a tri-complex of refined metalized gold and silver pearls envelop lips to create an amplified chromatic finish. This high-impact fusion of pigments and pearls create brilliant shades that work across all different skin tones, while the moisture-rich formula keeps lips feeling soft and conditioned all day.
Available in:
Electric Wine
Fuchsia Flash
Hot Cherry
Liquid Petal
Mirrored Mauve
Peach Glass
Ruby Glow
Vinyl Rose
Wet Plum
Amber Allow
Estee Lauder Pure Color Vivid Shine Nail Lacquer
Color Vivid Shine Nail Lacquer. Born out of a fusion of refined pearls and aluminum platelets, this new high-impact finish saturates nails in a flash richly pigmented chromatic color. The multi-faceted spectrum of color-enriched metalized shades range from dusty rose gold to smokey deep platinum, creating a new dimension of confident style and expressive attitude.
Available in:
Rose Gold
Midnight Metal
Chcoolate Foil
Smoked Chrome
Steel Orchid
Brushed Gold
Chrome Violet
Metallic Green