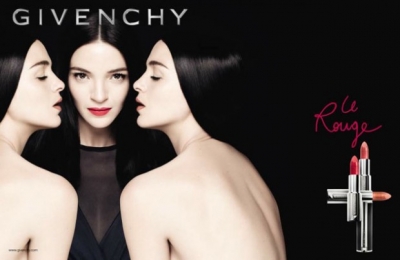 Givenchy launched a new signature couture lipstick in February 2013, Givenchy Le Rouge, a rich and velvety lip colour which delivers saturated colour in just one stroke and Le Vernis Givenchy, the new accessory for your Spring/Summer 2013 outfits. A sophisticated velvety makeup result-semi mat- very pure pigments and strong waxes for colorful lips from day to evening. Shaping Formula: Immediately and in the long term, thanks to better hydration and an improved structure of the lips dermis, they are plumper and smoother, hence better shaped.
Elegant and sophisticated, Le Rouge Givenchy glides onto the lips for a rich colour finish. The long-lasting colour sticks to your lips without shifting or smudging. The creamy, non-sticky formula of beeswax moisturises and hydrates the lips for a feather light finish. Infused with a delicate fragrance of powdery mimosa and blackcurrant notes, Le Rouge Givenchy smells so delicious, it's almost edible. Encased in a luxurious leather lid with silver stud detailing, this iconic tough-luxe packaging is opulent and sophisticated and makes for a stylish accessory for an evening out. Available in a range of shades from naturals featuring soft nudes and warm beiges, to roses featuring fuchsias and candy pinks and signature shades such as mandarin or garnet there are a kaleidoscope of colours to suit each skin tone and occasion.
For the nails, Le Vernis Givenchy is a stylish new polish which looks equally beautiful on your bathroom shelf as it will painted on your nails. New-generation formula allows one coat to do the trick of high-shine and high-pigment colour. The even coverage glides onto the nails effortlessly with the easy application brush. Wide and flat, the brush allows for full nail coverage as well as extreme precision. In a range of timeless shades from deep velvet tones to powdery beige, Le Vernis Givenchy offers a new shade for each day of the week. A sophisticated collection with rich and long-lasting shades, Le Vernis Givenchy and Le Rouge Givenchy are the ideal everyday accessory for a pop of colour.