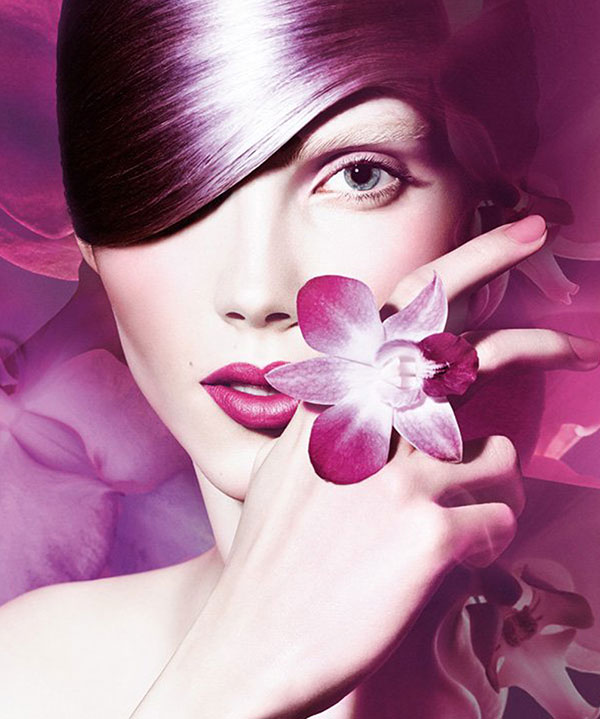 Sephora and Pantone, proudly announce the next in ravishing feminine beauty with the 2014 PANTONE® Color of the Year Collection in Radiant Orchid. This year's strikingly modern collaboration marks the third annual installment by SEPHORA, leveraging Pantone's unprecedented color forecasting research and authority. This limited edition color trend collection inspires a flush of uninhibited beauty, from petal – sheer luminosity to wildly rich pigments.
The collection designed by Sephora evokes the sleek, modern lines of the iconic Pantone Chip, and newly imagined with a captivating Radiant Orchid ombre color variation, 2014's Color of the Year Collection makes a stunning presentation. Each color product features Sephora Collection's high performance formulas including Orchid essence infusion, that offer rich color payoff and luxurious feel during wear, with refined finishes like matte, cream, metallic, and lacquer.
The Eye: Radiant Femme Artistry Set ($48.00)
The possibilities are endless with this versatile palette of 25 eyeshadow shades, including the signature Color of the Year along with 24 complementary tones in shimmer, matte and glitter finishes to create a variety of looks. Housed in a sleek white compact, the high pigment, high performance formulas last all day.
Rush Luster Cheek Sweep ($26.00)
This one compact does it all with a flattering Radiant Orchid powder blush and two harmonizing powder luminizers in warm rose gold and cool iridescent pink. Enhance cheeks with a rush of color and highlight with a sophisticated shimmer for a radiant glow.
Radiant Rush Matte Lipstick ($18.00)
This satin finish moisturizing lipstick offers rich, matte color in a stunning Radiant Orchid shade. Infused with Orchid essence for nourishment, and Collagen for a subtle plumping effect, the creamy formula glides on and provides comfortable, all-day wear that rivals the lasting power of a lip stain.
Radiant Paint Gloss Trio ($24.00)
Give lips a glossy shine with three versatile colors in one exquisite set. Enriched with nourishing Orchid essence, the individual shades of Radiant Orchid, sheer pink, and nude can be worn alone, or layered for a beautiful ombre effect.
Venus Lure Lip Balm ($16.00)
This soft, Radiant Orchid-hued balm combines nourishing Orchid essence Hyaluronic Acid, and Collagen for a soft, smoothing effect with natural shine and tone. Added essential oils also provide a subtle cooling effect that refreshes instantly.
Gazing Paint Liquid Liner ($17.00)
Define eyes with this bold Radiant Orchid liquid liner with a beautiful matte finish. Applied with the soft flexible brush, this liquid liner glides on effortlessly, while the water resistant formula provides all day wear.
Nail Ambrosia Trio ($18.00)
A collection of three mini polishes that match the shades found in the Radiant Paint Gloss Trio. The versatile colors – Radiant Orchid, sheer pink, and nude – provide the perfect flash of color for fingertips and toes. Use the sheer finish for a modern twist on the French manicure, or layer the three together for one-of-a-kind ombre nail art effects.
Color Gaze Brush Set ($68.00)
The set contains six high quality brushes in a versatile pebbled vegan leather standing case. Beautifully designed with Radiant Orchid ombre handles and soft synthetic bristles, this set includes an Angled Blush Brush, Stippling Brush, All-Over Shadow Brush, Crease Brush, Shadow Brush and Lip Brush.
The Face Collectors Set: Radiant Femme Artistry Set ($75.00)
This six piece collectors edition set features three pieces only available in the set, including:
Color Gaze Cosmetic Pouch in a supple pebbled vegan leather (set exclusive)
Flash Dew Luminizer for face and body (set exclusive)
Ravishing Dew Cream Blush that is easy to wear and universally flattering (set exclusive)
Radiant Orchid Nail Polish featuring a creamy opaque in the color of the year (set exclusive)
Gazing Paint Liquid Liner, an all-day wear eyeliner with a metallic finish in a shimmering Radiant Orchid hue
Radiant Rush Matte Lipstick in a satin matte finish